Easy Pumpkin Coffee Cake with Toffee Streusel
We love sweets, like coffee cakes and muffins, for breakfast in our house, especially during the fall and winter months when I don't mind turning on the oven in the mornings to warm the downstairs up a bit.
They're so warm and cozy, especially on a cold and windy day like today, and make the house smell so nice.
One of our new favorite quick treats for breakfast or even for a little after dinner snack is this Pumpkin Coffee Cake with Toffee Streusel.
With the use of Bisquick recipe is really simple to prepare and perfect for the busy holiday season when you are wanting something a little special for breakfast but you don't want to wake up 3 hours before everyone else to prepare it.
This Pumpkin Coffee Cake with Toffee Streusel can even be made ahead to save you time in the morning. That way you can spend more time with your family and less time in the kitchen.
For more make ahead holiday recipes visit http://www.bisquick.com/makeahead and follow Bisquick on Facebook and Pinterest #GetYourBettyOn
Pumpkin Coffee Cake with Toffee Streusal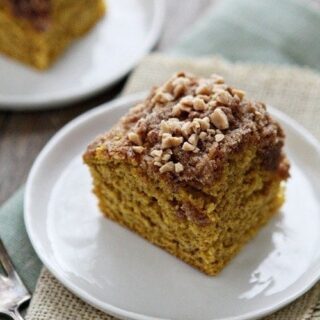 Ingredients:
For the coffee cake
2 1/2 cups Original Bisquick™ mix
3/4 cup brown sugar
2 teaspoons cinnamon
1/4 teaspoon nutmeg
1/8 teaspoon ginger
1/3 cup milk
1 cup pumpkin puree
2 tablespoons melted butter
1 tablespoon vanilla
2 medium eggs
For the Streusel

1/2 cup all-purpose flour
1/4 cup butter, cold
1/2 cup brown sugar
2 teaspoons ground cinnamon
Topping
1/2 cup english toffee bits
Directions:
For the Streusel
In small bowl, stir streusel ingredients until crumbly; set aside.
For the Coffee Cake
Preheat oven to 375 degrees F. Line a 9x9 baking pan with parchment paper (parchment paper tips here). Set aside.
In a medium sized bowl, combine the Original Bisquick™ mix, brown sugar, cinnamon, nutmeg, and ginger. Whisk until well mixed. Set aside.
In another medium sized bowl, whisk together the milk, pumpkin, melted butter, vanilla and eggs.
Add the liquid mixture to the dry ingredients and stir until combined. Spread mixture into prepared pan. Sprinkle the top with the prepared streusel mixture.
Bake the coffee cake at 375 degrees F for 20 - 25 minutes, or until set in the middle and golden brown. Remove from the oven and cool 5 minutes. Then sprinkle the top with the toffee bits. Continue to cool until warm, but cool enough to handle.
Best served warm.
Notes:
To prepare in advance: Follow all of the steps except adding the english toffee. When ready to serve, reheat each piece for 10 - 15 seconds in the microwave. Then sprinkle with english toffee.
This is a sponsored conversation written by me on behalf of Betty Crocker via Burst Media. The opinions and text are all mine.