Italian Chicken, Mushroom, and Zucchini Skillet
Italian is often my go-to cuisine when I want something easy. There are so many things you can do with tomatoes, olive oil, and your favorite Italian herbs.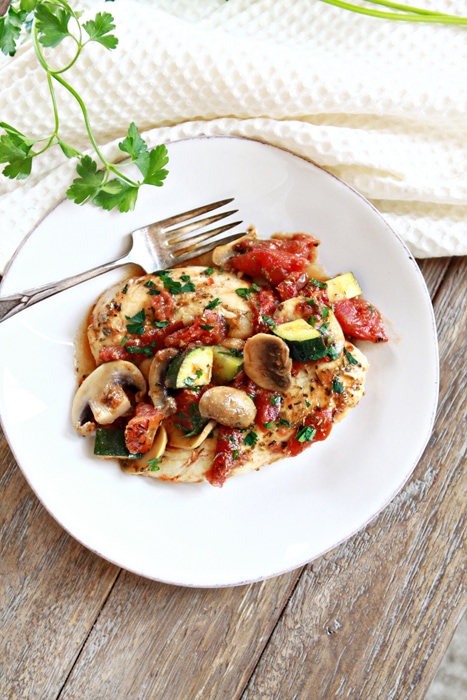 This week, Land O'Lakes challenged me to share a one-dish dinner recipe for their new Weeknight Wins Blogger Challenge with Sauté Express® Sauté Starter. I will be posting about easy Weeknight Wins along with four other food bloggers. You can repin your favorite go-to recipe ideas for each challenge from our Pinterest board. Plus, each week there will be a new prize for you to have a chance to win!
Sauté Express® Sauté Starter is a blend of seasoned butter and olive oil that can be used to cook and flavor proteins like chicken, fish, or pork in one easy step. My challenge this week: create a recipe that can be cooked in one pan to highlight this fun, new ingredient.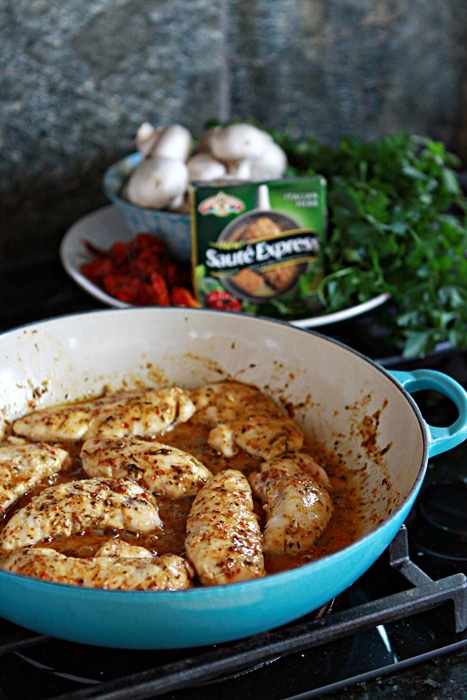 I settled on an Italian Chicken Skillet Dinner for this challenge. I love skillet dinners because they don't require a lot of pots and pans to get dinner on the table.
The chicken is browned in the Italian Herb Sauté Express® Sauté Starter, then smothered in a thick, chunky sauce of mushrooms, zucchini, diced tomatoes, and sundried tomatoes.
This meal comes together quickly and is full of lots of hearty vegetables. Use the vegetables listed in the recipe or substitute what you have on hand. Vegetables like red bell peppers, yellow summer squash, and eggplant would also make good additions or substitutes.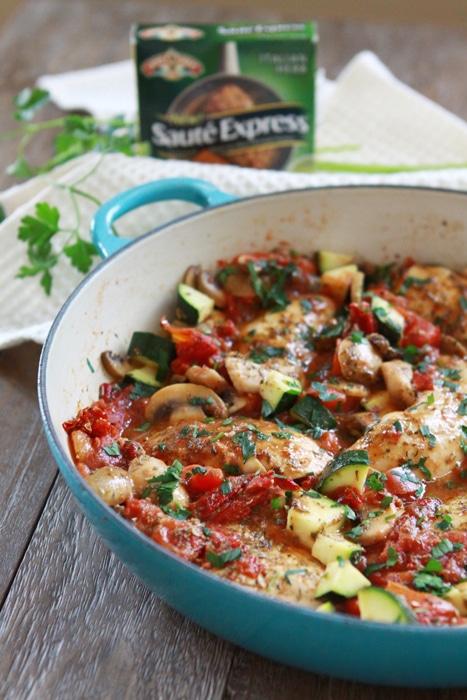 Now, share your idea for a One-Pan Wonder for a chance to win the Sauté Express® Sauté Starter Prize Pack.
Tell me what one-pan dinner you would make using Sauté Express® Sauté Starter. Each week, in addition to your chance to win Land O'Lakes will pick a few favorites to be featured on Land O'Lakes Weeknight Meals Pinterest Board. *When you enter, Land O'Lakes may select your comment to feature for promotion, social media and/or other related marketing materials.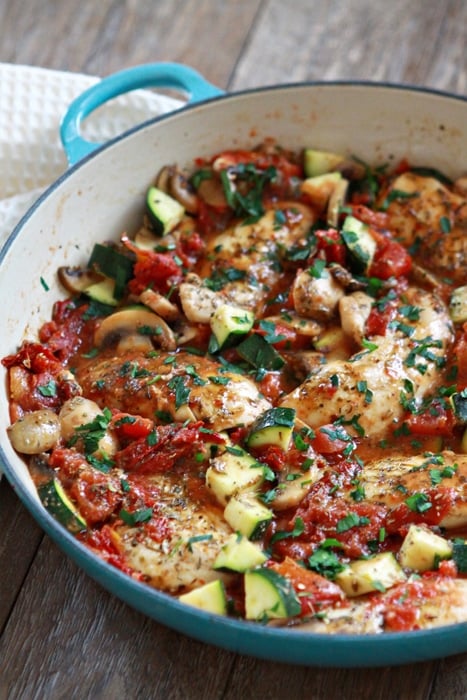 Enter The Weeknight Wins by Sauté Express® Sauté Starter Sweepstakes
One winner will win the following prize package valued at approx. $150.
Four Coupons for Sauté Express® Sauté Starter
Anthropologie Dish Towel Set
Le Creuset Cast Iron Skillet
Le Creuset Serving Platter
What is your favorite one-pan recipe?
OR
What would you make with Sauté Express® Sauté Starter?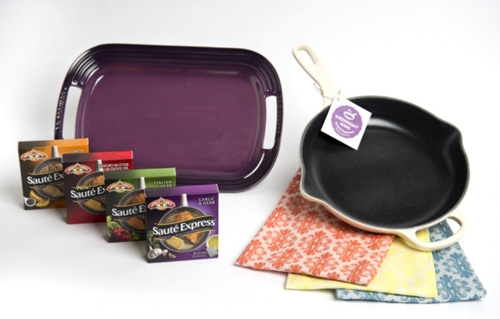 Details
Open to legal U.S. residents 18 years and older. No purchase necessary to enter or win. One entry per person (that includes email address & IP address) per day. First & last name and valid email address are required. Entries obtained by mechanical or spamming mechanisms will be disqualified.
One winner will be chosen at random from all of the qualified entries submitted. Sweepstakes ends on Friday, April 19, 2013 at 11:59 PM EST. Winner will be contacted via email supplied in the entry and will have 48 hours to respond or another winner will be chosen.
Approximate retail value of prize: $150. Sweepstakes is sponsored by Land O'Lakes. Good Life Eats and the sponsor reserve the right to cancel the sweepstakes at any time. ContactGood Life Eats for winner list or with any questions. By participating in this Sweepstakes, you agree to be bound by these rules and the decisions of the Sponsors, which shall be final. All federal, state, and local laws apply; void where prohibited.
Italian Chicken, Mushroom, and Zucchini Skillet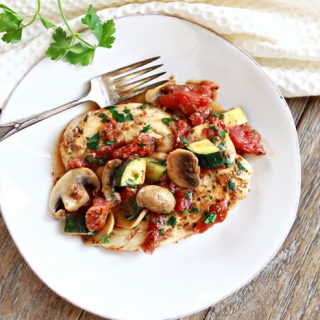 Ingredients:
1 lb. chicken breasts (cut in half) or tenderloins
2 squares Italian Herb Sauté Express® Sauté Starter
2 teaspoons olive oil
½ yellow onion, diced
3 cloves garlic, minced
12 ounces mushrooms, sliced
2 zucchini, cut in bite-size chunks
2/3 cup sundried tomatoes
2 15-ounce cans fire roasted diced tomatoes
1 teaspoon Italian seasoning
Salt and pepper, to taste
1 teaspoon balsamic vinegar (optional)
Directions:
In a large sauté pan or cast iron skillet, melt the Sauté Express® Sauté Starter over medium heat until it begins to bubble. Pat the chicken dry on both sides. Add the chicken and cook for 5 to 7 minutes, or until browned. Turn and cook the other side until browned and the chicken is cooked through. While cooking, brush some of the Sauté Express® Sauté Starter on the side of the chicken facing up.
Remove chicken and set aside on a plate. Add the olive oil to the pan. Over medium heat, sauté the onion for 3 minutes. Add the mushrooms and continue to sauté for 5 minutes. Add garlic, zucchini and sundried tomatoes. Sauté for 2 minutes. Add the diced tomatoes, Italian seasoning, and salt and pepper to taste. If using, stir in the balsamic vinegar.
Transfer the chicken back to the pan and spoon some of the sauce and vegetables over top of the chicken. Cook, covered, over the stovetop or in the oven at 350 degrees F until the chicken is heated through and the sauce is bubbling.
Disclosure: I've partnered with Land O'Lakes for an exclusive endorsement of
Sauté Express® Sauté Starter. This blog post is sponsored by Land O'Lakes. All opinions are my own.