Manicotti Primavera
I came across this lovely looking vegetarian lasagna recipe recently. I had it on our menu that week, but ended up making something a little different. Instead of the Lasagna Primavera, we ended up with Manicotti Primavera.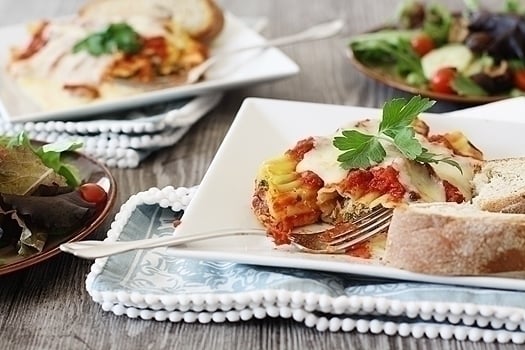 Eric's mom thinks that I'm a glutton for punishment for making Manicotti, but I have a little trick up my sleeve to share with you tomorrow. It makes stuffing Manicotti a lot easier, faster, and less messy. But you'll just have to wait another day for that! Some of you might already know what I'm talking about, but if you don't – you'll never look at Manicotti or Stuffed Shells the same.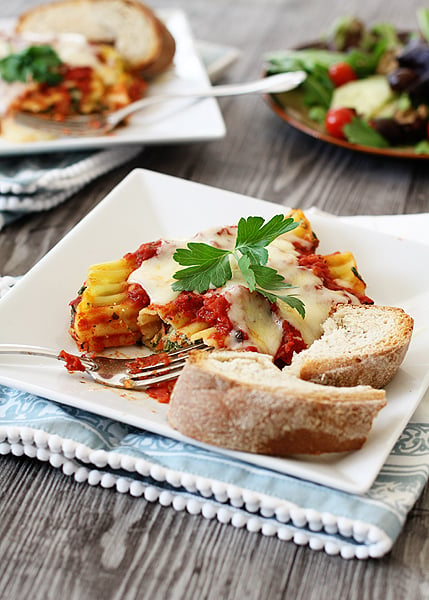 I served the Manicotti Primavera for our Sunday dinner a few weeks ago. I like to prepare a bigger dinner on Sundays because I have a lot more time. It's usually a pretty relaxing day in the afternoon and evening here. I served a green salad and Rustic Rosemary Garlic Bread along side. MMmmmm Mmmmmm GOOD!
This recipe is a great way to use up any remaining summer squash and zucchini from your garden, CSA, or the farmer's market.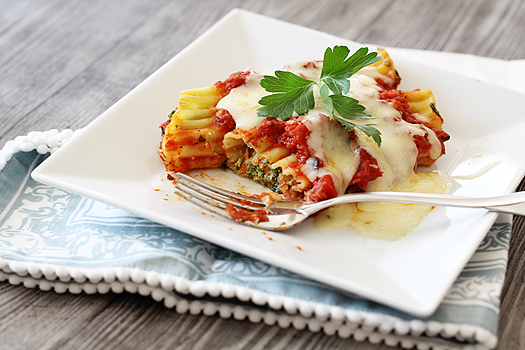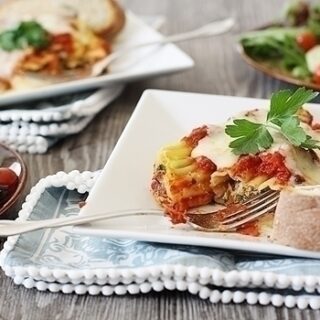 Ingredients:
15 ounces ricotta cheese
1 egg, beaten
1 teaspoon salt
1/3 teaspoon black pepper
2 cups grated mozzarella cheese, divided
1/2 cup freshly grated parmesan
1/2 cup carrot, grated
1/3 cup zucchini, grated
1/2 cup patty pan squash, grated
1/3 cup broccoli, chopped fine
1/4 cup fresh herbs, chopped (parsley, basil, or a combination)
3 cups sauce, such as Homemade Marinara Sauce
Directions:
Preheat oven to 375 degrees F.
Cook the pasta (I usually cook it 1-2 minutes less than the package instructions so it will hold it's shape.). Drain, cool, and set aside till you're ready to stuff the tubes.
In a medium sized bowl, Combine the ricotta cheese, egg, salt, pepper, 1 cup of the mozzarella (reserving the other 1 cup), and parmesan. Mix well. Grate the carrot, zucchini, squash, and broccoli. Add the vegetables to the cheese mixture and stir to combine.
Stuff the cooled pasta with the cheese and vegetable mixture. Coat the bottom of a 9x13 inch pan with 1 cup of sauce, such as Homemade Marinara Sauce. Line the manicotti up in the baking dish and top with the remaining 2 cups of sauce. Sprinkle with the remaining 1 cup of mozzarella cheese.
Bake, covered with foil, for 20 minutes. Remove foil and bake an additional 5-10 minutes, or until sauce is bubbly and cheese is melted. Remove from oven and let rest for 5 minutes before serving. Serve with a green salad and garlic bread.
Note: If you don't have patty pan squash, just substitute another yellow summer squash.