Sweet and Spicy Rosemary Bar Nuts
When you're having a group of friends, or even just gathering as a family, over to watch sports you'll want to keep any snacks simple. No need to go overboard, just a few things to much on while enjoying the game works best. Quick and easy snacks like these Sweet and Spicy Rosemary Bar Nuts are perfect for game day entertaining.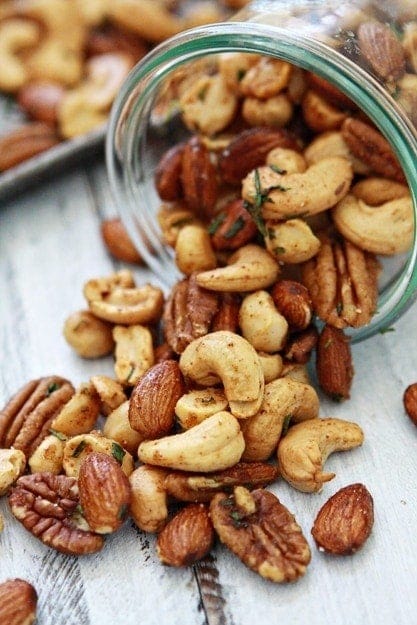 If you'd like, you can also use this recipe for Sweet and Spicy Rosemary Bar Nuts as a base for a other oven roasted mixed nuts or a trail mix type of snack.

Here are a few ideas to customize the recipe.
Customize Your Mixed Nuts
Mixed Nut Flavor Ideas
You can easily change of the flavors of this recipe by using different spices, sweeteners, and herbs (or omitting herbs). Try some of these ideas:
Cinnamon
Nutmeg
Ginger
Chili Powder
Chipotle Powder
Garam Masala
Honey
Molasses
Fresh Thyme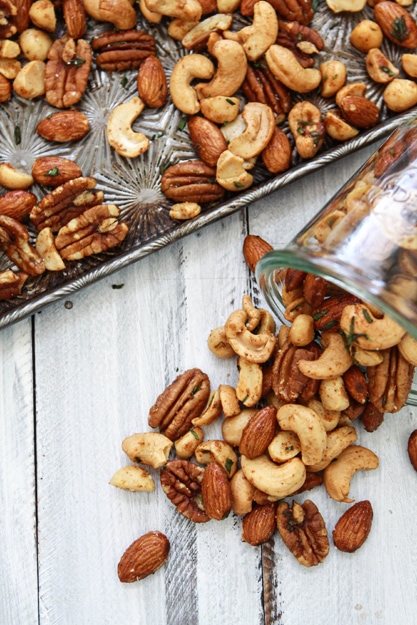 Mixed Nuts Mix in Ideas
You'll want to add any extra ingredients after the toasting the nuts and tossing them with the sweet and spicy rosemary butter mixture. Ingredients like pretzels and popcorn can easily turn to a soggy mess if they are stirred into the melted butter.
Pretzels – salted, yogurt covered, or chocolate covered
Dried Fruits – plain or chocolate covered
Dried Shaved Coconut
Popcorn
Sesame Seeds
Chex Cereal
Dark Chocolate
Pumpkin Seeds
Granola
What are your favorite game day entertaining snacks?
Sweet and Spicy Rosemary Bar Nuts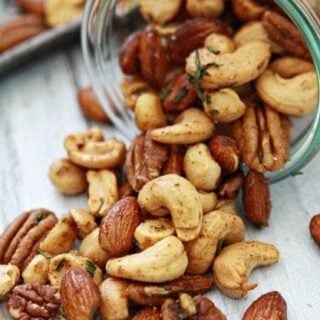 Ingredients:
4 1/2 cups assorted unsalted nuts, such as cashews, pecans, whole almonds, and macadamia nuts
1 tablespoon olive oil
4 tablespoons fresh rosemary leaves, coarsely chopped
1/2 teaspoon cayenne pepper, or more to taste
1/4 teaspoon ground cumin
1 tablespoon dark brown sugar
1 tablespoon maple syrup
2 teaspoons coarse salt, or to taste
1 tablespoon unsalted butter, melted
Directions:
Preheat oven to 350 degrees F.
In a large bowl, combine all the nuts and olive oil and stir to mix. Then, spread evenly on a baking sheet (or two if necessary) and bake until warm and golden, about 10-15 minutes.
Spread nuts onto a baking sheet in an even layer. Toast until nuts are lightly golden brown and fragrant (stirring occasionally), approximately 10-15 minutes.
Combine the rosemary, cayenne, cumin, brown sugar, maple syrup, and melted butter in the large bowl. Add the warm nuts to the mixture and stir gently to coat. Spread the nuts onto the baking sheet and sprinkle evenly with the coarse sea salt.
I have partnered with Fisher Nuts and have been compensated for my time, but any opinions are my own.