White Bean Bruschetta
December is upon us once again. With the busy days and holiday excitement ahead, the coming weeks will be filled with so very many things to do.
This simple White Bean Bruschetta is a quick make-ahead appetizer to help simplify holiday entertaining and potlucks.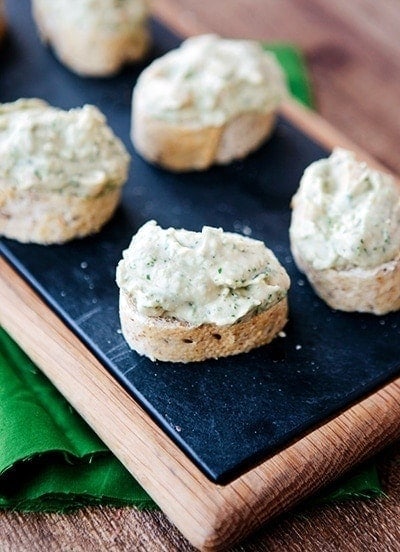 This tasty bruschetta comes together in about 15 fast minutes. It has a lot of flavor, but not a lot of ingredients. Sometimes less really is more and this simple appetizer is a guaranteed crowd pleaser!
You can make this White Bean Bruschetta up to two days ahead and store it in the refrigerator, just bring it to room temperature before you serve it. You can simplify it even further by skipping the toasted baguette slices and serve it as a dip with crackers or bread instead. It's versatile and you can adapt it to your specific menu and plans.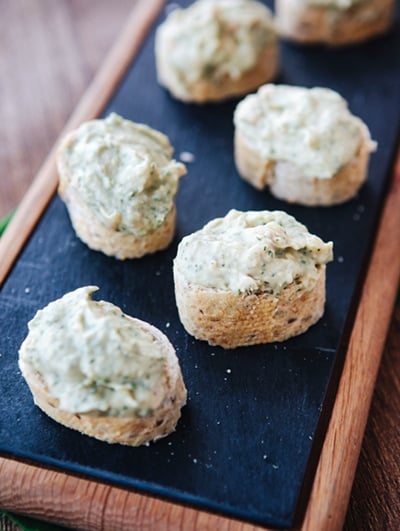 I am not planning to do any entertaining this year, though I was very tempted by Aimee's Holiday Cookie Swap over on Simple Bites (I'm definitely hosting my own version next year!). However, I will still be putting this quick appetizer recipe to use as I attend various potlucks and parties this month. I am even planning to use it as a starter at my big holiday meal for the family. This is one of my favorite finger foods!
Are you entertaining for the holidays this year? What are you serving?
White Bean Bruschetta
Yield: 24 slices
Prep Time: 15
To make ahead, prepare and chill the white bean spread up to two days in advance. Bring to room temperature before serving with the bread.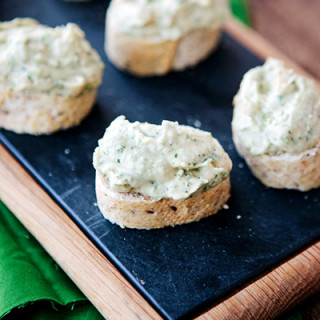 Ingredients:
1/3 cup chopped fresh flat leaf parsley
juice of one lemon
1/4 teaspoon salt
1/2 teaspoon freshly ground black pepper
1 teaspoon minced garlic
2 (15 oz) cans cannellini beans, divided
3 tablespoons high quality extra virgin olive oil
2 teaspoons water
1 multigrain baguette, cut into 24 slices
Directions:
Preheat oven to 350 degrees Fahrenheit
Drain and rinse beans. Reserve 2/3 cup beans, and place remaining beans in a food processor with the parsley, juice, salt, pepper, garlic. Process until smooth. With processor on, slowly add oil and water through food chute until creamy. Add reserved 2/3 cup beans and pulse once or twice, leaving the spread slightly chunky.
Place bread on baking sheet. Bake at 350 for 2 to 5 minutes on each side, or until slightly browned. Top with white bean spread and serve.
Notes:
Adapted from Cooking Light.