This post was created in partnership with CAPRI SUN. With the holidays behind us and the New Year in full view, it is time to start thinking about simple changes, new habits, and healthier choices that we can make – starting with our daily afternoon meals.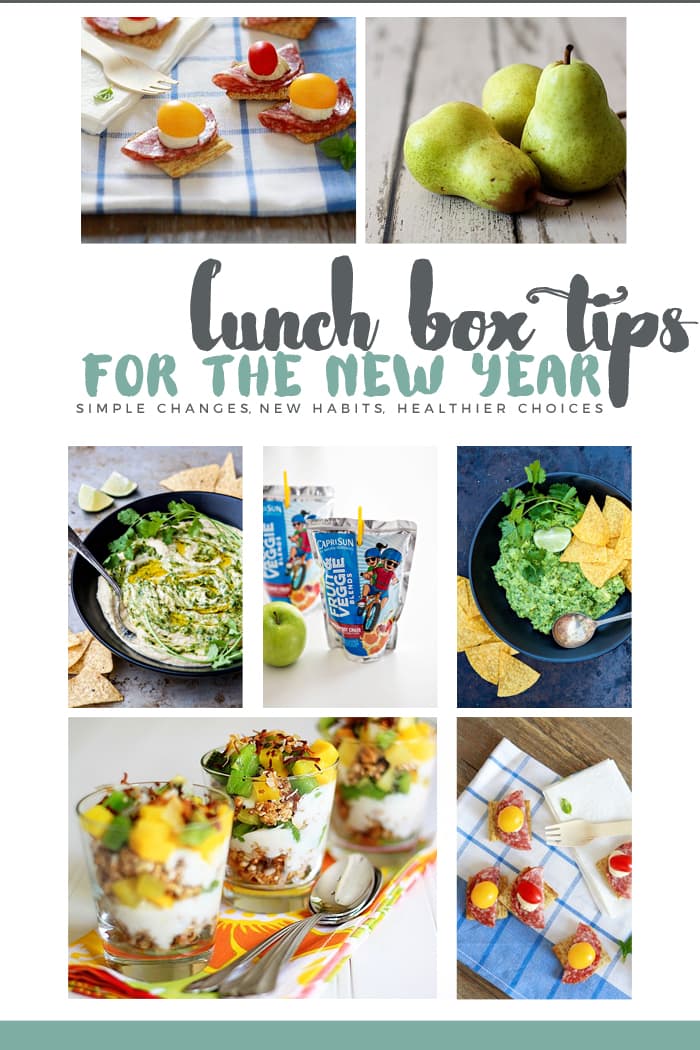 I always love the holiday season – so many things about it are my favorites: spending time with family when we have time off school and work, the foods, the traditions, the house all cozy and decorated, our favorite holiday tunes playing in the background, later bed times and sleeping in, shopping for gifts for each other, and watching my family open the gifts I've thoughtfully picked out for them. I love it!
But I also love January. I love a fresh start. I love getting back into our routines after some time away from them and the chance to reboot them with better energy and purpose.
One of the things I was thinking about as a good opportunity to reboot post-holiday season is our weekday lunches: school lunches for the kids, and lunches at home for me.
I think we've been stuck in a little bit of a rut with packing the same things over and over again. It is time to mix it up again, to make it more fun, more tasty, and a little more (especially after the holiday season). I've been putting some thought into this and wanted to share the tips, ideas, and suggestions that I've come up with for our family.
Think Outside the Sandwich
You don't have to have a sandwich for a main dish, and sometimes the kids get bored of turkey, cheese, and lettuce every day anyway.
Here are a few of our favorite non-sandwich ideas for kids and mom alike.
1. DIY CRACKER SANDWICHES
Everyone loves the classic sandwich cracker. It is still a sandwich, but it isn't. Crackers are great fun to get creative with and fun for the kids to build as they eat.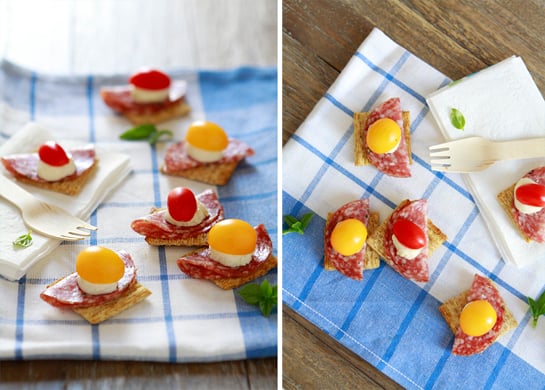 Kids love to choose what type of cracker, meat and cheese they use for DIY Cracker Sandwiches. All the kids have to do is prepare the individual components and pack them separately.
2. SNACKS ON A STICK
Putting snacks on a stick is a fun lunch idea that can be used to deconstruct a sandwich, or just take what you have in the fridge – fruits, meats, vegetables, and cheeses – that your kids will eat and presenting them in a different way.
Logan and Madeline love to make kebab snacks, so naturally I thought this would be a fun way to pack a lunch.
It is easy for kids to assemble their own lunch kebabs on a stick (look for long, appetizer style toothpicks) after mom or dad does the cutting.
3. FRUIT, YOGURT, AND GRANOLA PARFAITS
Yogurt can be high in sugar which can't sustain the body with the energy requirements needed at school. Look for high-protein yogurt varieties, Greek is great, and/or use half yogurt and half cottage cheese to pack in your child's lunch.
If you're worried about the granola losing its crunch, simply layer the yogurt and fruit and pack any granola and nuts separate. Just make sure your child knows to sprinkle those on top before they eat.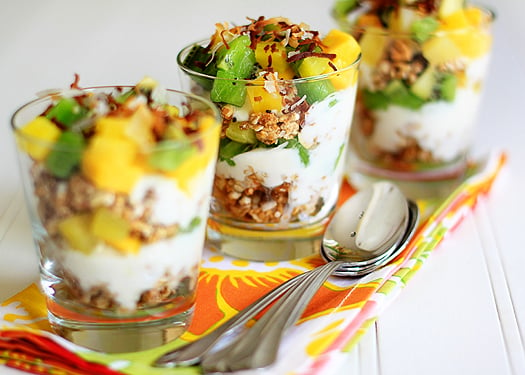 Try these flavor combinations in your lunchbox:
Lemon Yogurt + In Season Berries + Granola
Vanilla Yogurt + Coconut Flakes + Pineapple and Kiwi + Granola
Vanilla Yogurt + Cinnamon and Nutmeg + Diced Pears + Pecans + Granola
Pomegranate or Orange Yogurt + Pomegranate Arils or Cranberry Relish and Orange Sections + Walnuts + Granola
Dried fruits and nuts are also great options to add to yogurt parfaits.
It is easy to keep the basics: yogurt and granola on hand. Customize with fruit depending on your child's input and what is in season. Kids can easily help layer the ingredients to help mom or dad prepare the parfait.
4. LEFTOVERS
Find out if the school has a microwave available. Having the option of a hot lunch can greatly increase the variety of food that you can pack.
No microwave? Try using an insulated thermos to pack things like soup and stews, chili, or pasta dishes.
Kayden actually really loves to pack leftovers in his lunch and usually opts for this whenever it is offered. I'm with Kayden. I really love to have leftovers for lunch the next day.
The biggest challenge for me is just making sure that I make a little extra when I'm cooking dinner so there is enough for lunch meals. When I do this it works great. Especially this time of year with chili, soups, and stews – I can easily freeze single serving portions in the freezer to keep on hand for lunches throughout the month.
Our kids take turns with dinner clean up, so I usually remind them that if there are leftovers, they can pack their lunch really easily and quickly since the food is all out. We have a variety of lunch box sized sealable plastic containers that are perfect for this.
5. PITA BREAD AND VEGGIES WITH DIPS
Hummus is such a simple thing to make and can easily be made over the weekend for use during the next week. Pair it with wedges of pita bread and vegetables for dipping.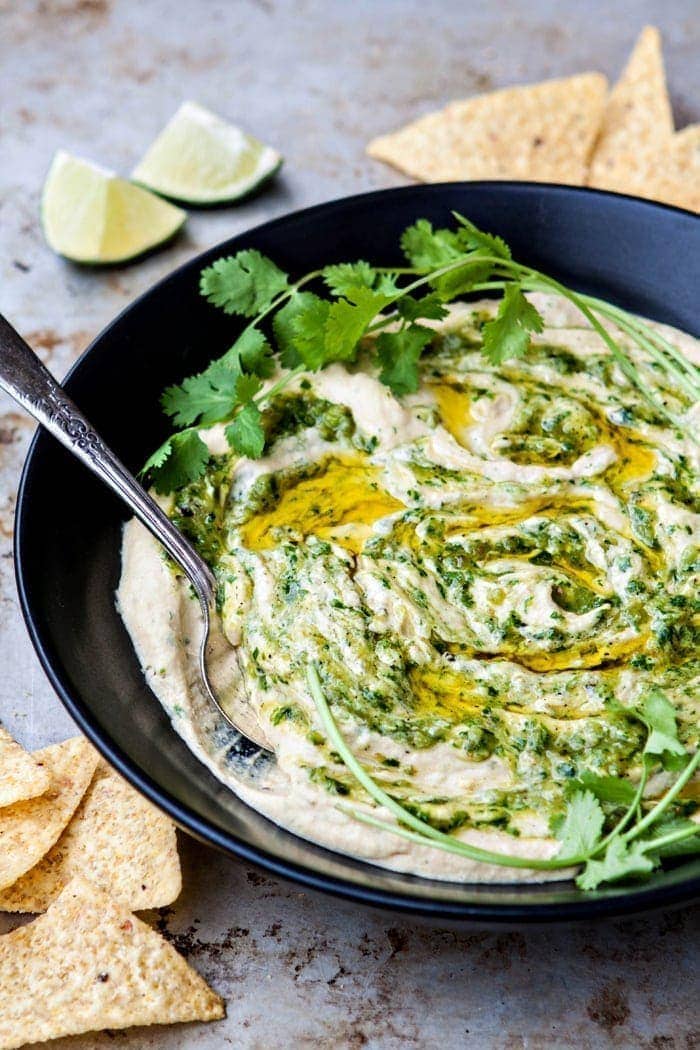 Because the main ingredient in hummus is typically beans, it is a great nutrient dense dip option to pack in school lunches for the kid who prefers snack-like options and enjoys dips. Look for whole grain pita bread to pair alongside. Madeline loves hummus in her lunch.
Try some of these homemade hummus recipes in your lunchbox:
Classic hummus is transformed into this Roasted Salsa Verde Hummus with the addition of roasted poblano, jalapeño, tomatillo, onion, cilantro, and lime.
Roasted Red Pepper Hummus is your classic hummus with pureed roasted red peppers added for a kick of flavor and color.
Try using beans other than garbanzo beans to make hummus, like this Black Bean Hummus.
Need some vegetable suggestions?
Celery, carrots, red peppers, sugar snap peas, radishes, and cucumber slices are some of our favorites.
Homemade guacamole is another nutrient rich dip that our kids love. It is one of Kendall's favorites to pack in her lunch.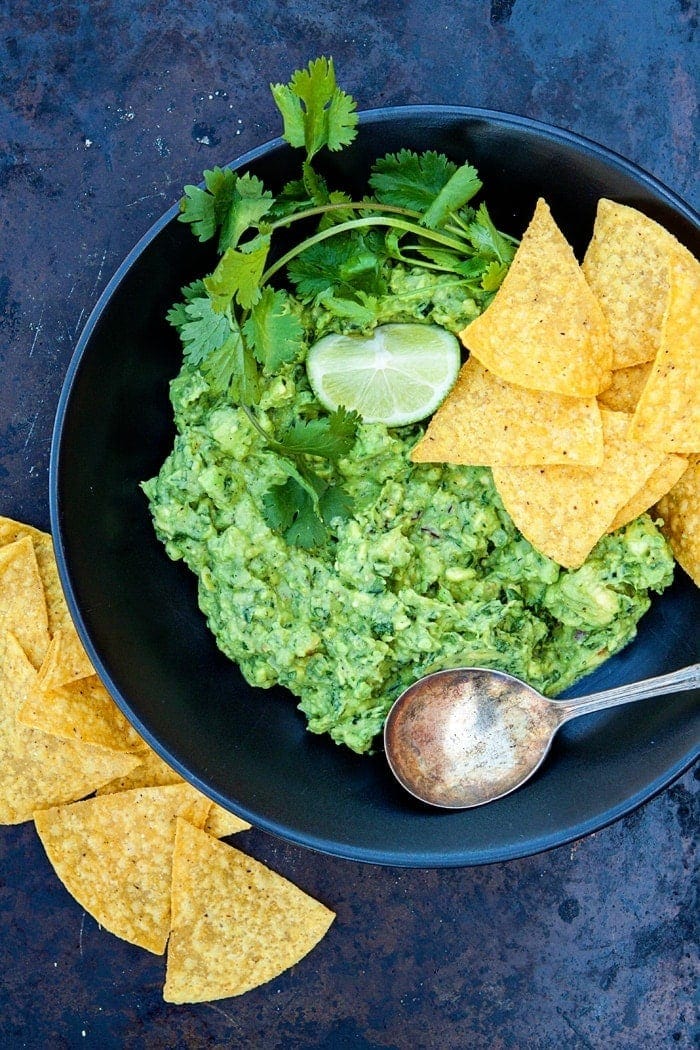 This 5 Minute Basic Guacamole features the delicious flavors of red onion, jalapeño, garlic, cilantro, and fresh lime juice paired with ripe, mashed avocados. Its simple and basic, but oh so delicious!
One of my favorites for lunch is this Deconstructed Guacamole featuring diced avocado, sliced grape tomatoes, corn, cilantro, and lime. It is great with some tortilla chips for scooping, on top of some greens for a salad, or rolled up in a tortilla for a wrap.
Put kids in charge of vegetable selection for their lunchbox packing. Hummus and guacamole are both so easy to prepare that kids can practically make it themselves with supervision (for safety reasons). If they're not ready for that, they'll at least want to help by pressing the button on the food processor for the hummus or mashing the avocado.
Offer Great Hydration Options
I think that our four kids stay hydrated a lot more easily at home than when they're sitting in class all day at school. They have said they will take a sip from the water fountain as they pass by, but that really isn't enough to sustain them throughout the day.
We like to offer drink choices for their lunch boxes that will help them stay hydrated throughout the day.
CAPRI SUN Fruit & Veggie Blends are a great option, especially if you want to get some extra fruit and veggies into your kids.
CAPRI SUN Fruit & Veggie Blends are all-natural with no added sugar*, and they're made with fruit AND veggie juice. They come in 3 tasty flavors: Apple Sweet Potato Smash, Berry Carrot Blast, and Punch Carrot Craze. They have 1/2 cup of fruit and veggie in every pouch!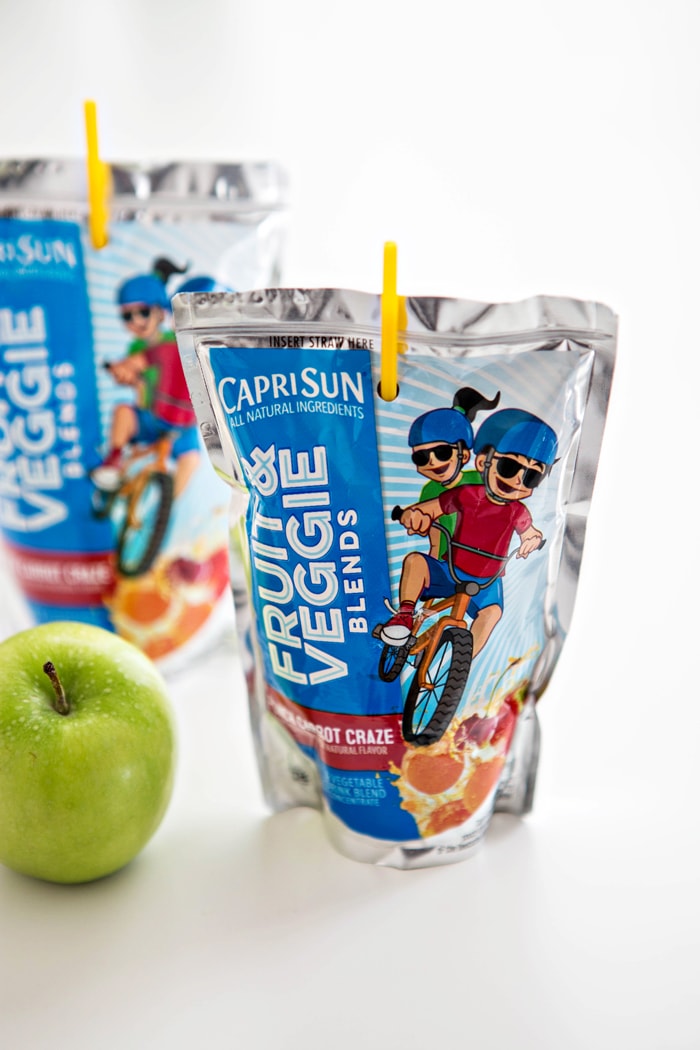 One of our kids' favorite things to do is to toss the juice pouches in the freezer, like we do in these One Ingredient Slushies, by lunchtime the CAPRI SUN Fruit & Veggie Blends have melted but are nice and cold, plus it serves as an ice pack to help keep the rest of their food cold.
Kids often forget about their hydration needs. Looking for extra tips on how to keep kids hydrated? Check out my tips for How to Keep Kids Hydrated.
Get Kids Involved
Logan and Madeline have been packing their lunches on their own for years. I honestly can't even remember the last time that I was packing both of their lunches for them.
I started having them help me pack lunches when they were pretty little so they could easily learn the process and what foods were the right things to pack. As they got older, I would write them little notes like this and let him do the rest:
Put this in your lunch box:
Bagel, Sandwich, Muffin, or Pasta
1 fruit or vegetable – your choice
Yogurt or string cheese
Fruit Leather or Dried Fruit
Drink
Napkin
xoxo, Mom
Kendall and Kayden weren't used to packing their own lunches when Kevin and I got married, but the two of us easily and quickly created this as part of the kids' daily routine. Periodically we give the kids a reminder of what kinds of things they should be packing, but for the most part they're self sufficient and it is great.
I love that they're learning this skill, that it takes a task away from me, and that the kids are all completely in charge of what they eat for lunch. We've had complaints of "I didn't have enough to eat at lunch," and we are quick to remind them that they are in charge and they should pack more if they're hungrier.
They also have choice to pack things they like. Kendall and Madeline, for example, don't usually like sandwiches so they usually pack some of the items on my "Think Outside The Sandwich" suggestions. And that's ok, because I know if they are packing things they LIKE, then they will actually eat their lunch, food won't go to waste, and they'll have all the fuel and hydration they need to get through their school day.
Thank you for supporting the brands that sponsor Good Life Eats. This is a sponsored conversation written in partnership with CAPRI SUN. The opinions and text are all mine.
*not a low calorie food.