In this Pineapple Coconut Kale Smoothie, frozen pineapple is combined with kale, coconut oil, chia seeds, water, and orange juice for a refreshing green smoothie.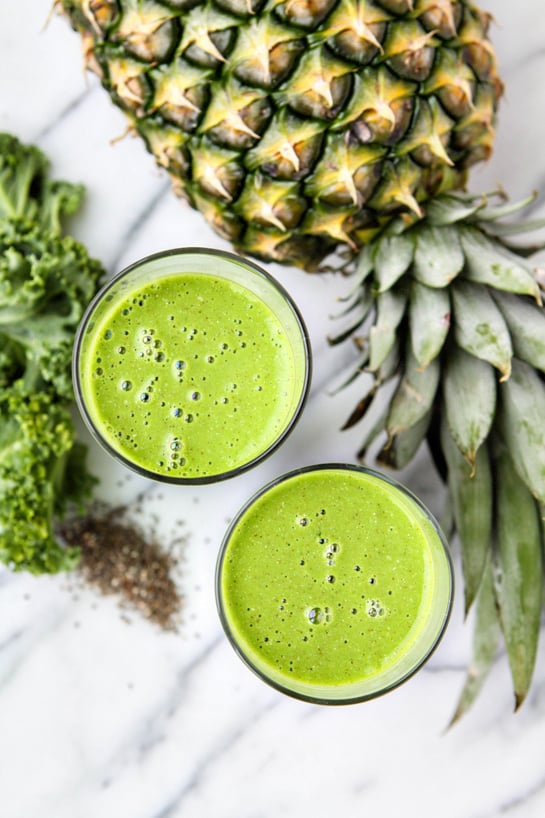 Click HERE to save this Green Smoothie Recipe to Pinterest!
Healthy Green Smoothie Recipe
This Pineapple Coconut Kale Smoothie is loaded with good things like coconut oil, chia seeds, and kale (4 things you should know about kale – all great things that added calories in a healthy way.
It is such a great way to supplement kids' diets if they're finicky about what you make for dinner. I highly recommend recipes like this for anyone who has a picky eater (if you can get them to drink it that is!). Or for anyone else who wants to get some extra greens, healthy fat, and omegas from the chia seeds.
PLUS, it tastes a little bit like a Pina Colada.
Pineapple Coconut Kale Smoothie Ingredients
This Pineapple Coconut Kale Smoothie recipe uses a hodgepodge of ingredients, but they all work so well together to create the most satisfying, healthy smoothie. Here's everything I used in this green smoothie:
Frozen Pineapple
Kale
Coconut Oil
Chia Seeds
Water
Orange Juice
Optional – Vanilla Protein Powder
For the complete ingredient list and detailed instructions, scroll to the bottom of this post for the FREE printable recipe card.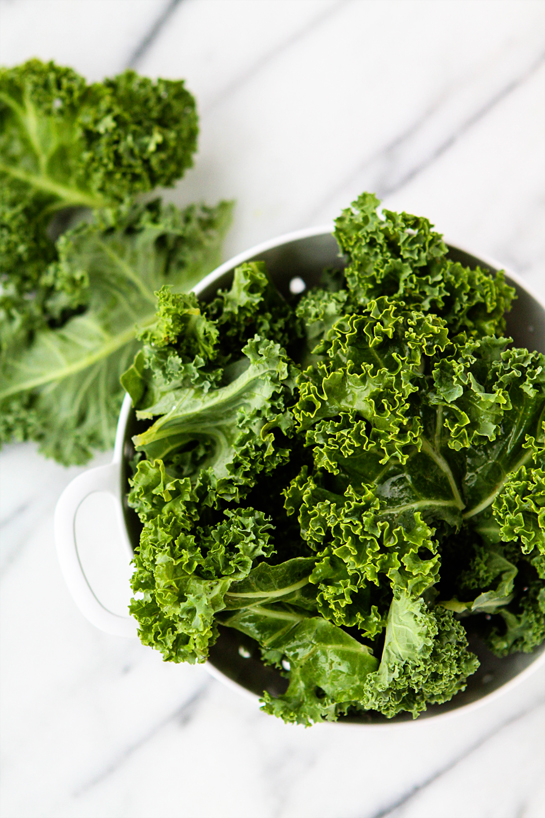 Click HERE to save this Green Smoothie Recipe to Pinterest!
Can You Substitute Spinach for Kale in Smoothies?
Yes, fresh baby spinach or frozen spinach is a great substitute for kale in a green smoothie recipe. The only difference is that spinach will probably have a slightly milder taste than kale does.
You can definitely still make this Pineapple Coconut Kale Smoothie if you are out of kale and want to substitute spinach.
What Can You Substitute Pineapple in Green Smoothies?
In this recipe, I would most likely substitute frozen peaches and/or frozen mango for the pineapple if I didn't have any frozen pineapple on hand. The result will be slightly sweeter (and less pina colada like) than without the pineapple but it will still taste good
What Liquids Should You Use in a Smoothie?
In this Pineapple Coconut Kale Smoothie, I use some orange juice for citrus flavor in addition to water. Popular liquids for smoothies include: water, juices, milk, non-dairy milk such as almond milk, and coconut milk.
In this recipe I think you could easily use coconut milk in place of the orange juice if you needed a substitute or are trying to cut sugar.
If substituting coconut milk for the orange juice, ideally I would add the zest of a small orange in addition to the coconut milk to still give it that little bit of citrus background taste.
How to Make a Green Smoothie
Also, all you busy people out there (Hi, it's me!) – this Pineapple coconut Kale Smoothie Pineapple Coconut Kale Smoothie couldn't be simpler to make!, especially if you do things like freeze kale or make individual bags of freezer smoothies.
Here's how I make this green smoothie with pineapple and kale:
Add the chia seeds, coconut oil, half of the frozen pineapple, kale, now the rest of the pineapple orange juice, and water to a blender.
Blend on high speed until the mixture is completely smooth.
If the mixture is too thick, add another 1/2 cup of water.
If using the optional vanilla protein powder, add it at the end and blend on low until mixed
The above is simply a quick summary of this recipe. Check out the full recipe in the free printable recipe card at the bottom of this post for all the detailed instructions.
Tips for Using Kale in Smoothies
Remove and discard the stems as well as any discolored leaves. Wash the remaining leaves. Kevin got me one of these Leaf and Stem Stripping Tools for Christmas and it makes this task so easy! (also great for herbs)
Tear the kale leaves into smaller pieces so they blend easier.
Placing the kale in between some of the other frozen fruits will help it blend easier and prevent it from getting stuck at the bottom of the blender.
I like to use frozen kale best!
How Can I Make My Green Smoothie More Filling?
Sometimes I like to make a smoothie more of a meal rather than a part of breakfast. If you want this Pineapple Coconut Kale Smoothie to be a filling morning breakfast, I recommend adding a few other ingredients to make it a full meal.
Collagen Peptides and Protein Powder are great ways to add some protein to the smoothie. I recommend adding collagen peptides to add some protein to this smoothie.
Collagen peptides are my favorite addition because it doesn't change the flavor of green smoothies like some ingredients might, but vanilla protein powder also tastes great in this recipe!
Here are some other ideas to add in to smoothies to make them more filling:
egg yolk
chia seeds (this recipe has chia in it already!)
coconut oil (this recipe already contains coconut oil!)
uncooked oats
nuts
avocado
wheat germ
How Do You Store Leftover Green Smoothies?
You can easily freeze any leftover of this Pineapple Coconut Kale Smoothie in a glass jar to enjoy later! Just make sure, no matter what type of container you use, that you leave approximately 1 inch of headspace to allow for expansion as the smoothie freezes.
To enjoy a frozen green smoothie, you will want to set the frozen smoothie on the counter to thaw for about 30-45 minutes before it is drinkable. If you want to eat it with a spoon, you will be able to use a shorter thawing time.
More Healthy Smoothie Recipes
Need more smoothie recipe ideas to get your inspiration started? Check out some of these favorite recipes.
This Minty Raspberry-Banana Smoothie will fill you up and keep you energized all morning. It is packed with superfoods, antioxidant rich fruits and has just a hint of fresh herbs.
This Chocolate Almond Banana Smoothie is a delicious snack for an afternoon pick me up.
If you're a fan of green smoothies and want a couple of different recipes to mix things up flavor-wise you should also give this Pineapple, Green Apple, Kale Smoothie and this Green Smoothie Bowl a try. We love them both!
The best thing about this Pumpkin Oatmeal Breakfast Smoothie is that while it is healthy, packed with vitamin A, protein, and whole grain goodness, it tastes a lot like a yummy slice of pumpkin pie.
If you don't see what you're looking for here, make sure you browse the recipe index; you can find all of the smoothie recipes here.
Get More Recipes via Email
Did you love this recipe? Sign up to receive Good Life Eats email updates and never miss another recipe!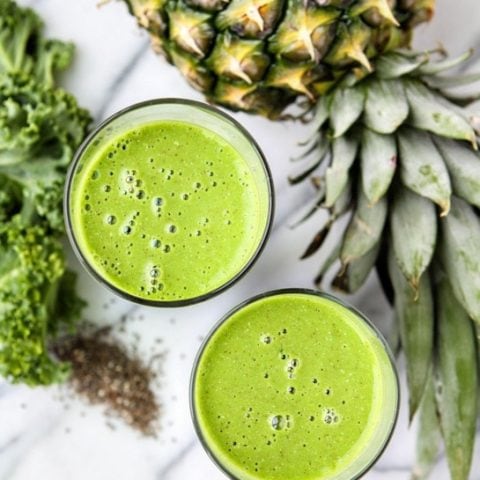 Pineapple Coconut Kale Smoothie
Additional Time:
5 minutes
This Pineapple Coconut Kale Smoothie is loaded with good things like coconut oil, chia seeds, and kale. PLUS, it tastes a little bit like a Pina Colada.
Ingredients
2 tablespoons coconut oil
2 tablespoons chia seeds
1 1/2 ounces frozen kale, or fresh
8 ounces water, cold
10 ounces frozen pineapple
2 ounces orange juice
1 scoop vanilla protein powder, optional
Instructions
Add the coconut oil, chia seeds, kale and water to the blender.
Puree (using the whole juice cycle if available) until completely smooth.
Add the pineapple, orange juice and vanilla protein.
Puree until well blended.
Drink immediately.
Recommended Products
As an Amazon Associate and member of other affiliate programs, I earn from qualifying purchases.
Nutrition Information
Yield

4
Serving Size

1
Amount Per Serving
Calories

189
Total Fat

9g
Saturated Fat

6g
Trans Fat

0g
Unsaturated Fat

2g
Cholesterol

1mg
Sodium

19mg
Carbohydrates

21g
Fiber

3g
Sugar

16g
Protein

8g
Favorite Smoothie Recipes