Recipe Exchange: Chocolate Gingerbread
For a fun, unique twist on gingerbread cut out cookies, try these Chocolate Gingerbread Cookies!
About a week ago, Logan came to me with one of his children's cookbooks.
This particular book was a baking book put out by a flour company.
He turned to a page with gingerbread boys and with wide eyes asked when we could make cookies like that.
Who could say no to that?
Certainly not me!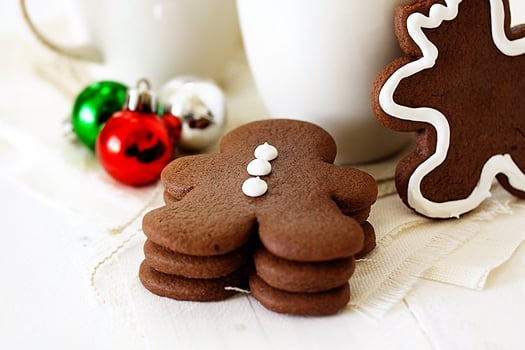 We usually stick to tradition and make Eric's recipe for German Cut-Out Cookies during the Holidays (we've even made them for Valentine's Day), but I figured we could do both this year.
Nothing wrong with making changes to our traditions.
And with that attitude in mind, I decided to make a few changes to a traditional Gingerbread Cookie recipe.
I was craving chocolate.
Chocolate gingerbread?
Oh yes!
These spicy gingerbread cookies have a hint of chocolate and a bit of orange zest.
They're so rich in flavor, but not too rich or different that your kids or traditional gingerbread lovers won't like them.
Because the cookies are so packed with flavor, I kept them simple.
No need to add mounds of icing.
A quick outline and/or some buttons are all you really need.
And of course a mug of milk for dunking.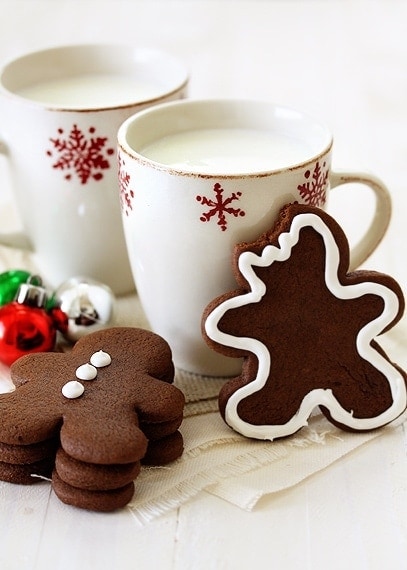 Oops!
This guy lost his head!
As you can see, I'm not the best at piping the edges of the cookies, but even though the lines aren't steady and smooth.
I thought this one turned out too cute to not share the photo with you.
Check out Jamie's post here: Holiday Recipe Exchange: Peppermint Brownies.
Do you like experimenting with out-of-the-box flavor combination?
You should check out the Scharffen Berger Chocolate Adventure Contest.
This year the contest focuses on fun and unique cupcake flavors.
If you're up for a challenge, take your chance at winning big – a total of $20,000 in prizes.
And that's not all.
The winning recipe will be featured in Food Network Magazine.
Chocolate Gingerbread Cookies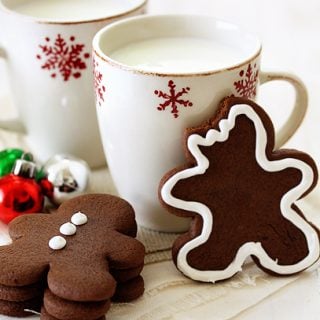 Ingredients:
3 1/3 cup all-purpose flour
1/2 cup Scharffen Berger Unsweetened Cocoa Powder
3/4 cup dark brown sugar
3/4 teaspoon baking soda
1 tablespoon cinnamon
1 tablespoon ground ginger
3/4 teaspoon ground cloves
1/2 teaspoon salt
1 teaspoon orange zest
12 tablespoons unsalted butter, soft but still cool and cut into 12 pieces
1 egg, room temperature
3/4 cup molasses
2 ounces Scharffen Berger 62% Cacao Semisweet Chocolate, very finely chopped
optional stir in: 3/4 cup dried cranberries
Directions:
In the bowl of a stand mixer, using the whisk beater stir together the flour, cocoa powder, brown sugar, baking soda, cinnamon, ginger, cloves, salt, and zest at low speed until combined. Stop the mixer and add the butter pieces; mix at medium-low speed until the mixture is sandy and resembles fine meal, about 1 1/2 minutes. Add the chopped chocolate and stir to combine. Remove the whisk beater and add the paddle.
Whisk the egg and molasses together. Reduce the speed to low and, with the mixture running, gradually add the molasses mixture. Mix until the dough is moist, then increase the speed to medium and mix until thoroughly combined, about 15 seconds.
Scrape the dough onto a work surface. Divide it in half and wrap in plastic wrap. Refrigerate for an hour, or until firm enough to work with without becoming sticky.
Working with one portion at a time, roll the dough into 1/4 inch thick between two sheets of parchment paper. Repeat with the other half of the dough. Leaving the dough sandwiched between the parchment paper, stack the dough on a baking sheet and freeze until firm, about 15 minutes. Alternatively, refrigerate for 2 hours or overnight.
Preheat the oven to 350 degrees F. Line two baking sheets with parchment paper. Remove 1 dough sheet from the freezer and place on a work surface. Peel off the top parchment sheet and gently lay it back in place. Flip the dough, remove the bottom layer and discard.
Cut the dough into 5-inch gingerbread people or 3-inch gingerbread cookies, transferring the shapes to the baking sheet with a wide, metal spatula and spacing them 3/4 inch apart. Set the scrapes aside for reuse.
Bake cookies at 350 degrees F for 8-12 minutes on the middle rack. Let cool on baking sheet for 2 minutes before transferring to a wire rack. Repeat with remaining dough. Frost as desired, once completely cool.
How To Participate
For a chance to win a $100 Scharffen Berger Prize Pack:
Write and post a recipe on your blog featuring CHOCOLATE.
Include "Come join the fun at the My Baking Addiction and GoodLife Eats Holiday Recipe Swap sponsored by Scharffen Berger." in your blog post.
Add your link to the widget on either GoodLife Eats or My Baking Addiction (we have the same widget code, so only add it on one site).
Submit your post before Dec. 4, 11:59 AM. On Dec. 5, 12:00 AM the widget will switch to voting mode. Be sure to encourage your readers to vote for you and/or vote for your favorites.
Anyone can participate in the link up, but the prize will ship to US residents only.
More detailed info, including buttons for your posts are available here.
Note: Please note the following change in the rules due to suspected fraudulent voting practices:
If you have already a won previous contest in the Holiday Recipe Exchange, your entry will defer to second place.
We truly appreciate everyone's enthusiasm and fantastic contributions, but we want to spread the prize love around and give everyone the opportunity to win!
It is quite unfortunate that our efforts to create a contest in good fun has resulted in fraudulent behavior to win prizes.
However, please know that we are doing everything we can to remedy the situation.
We hope you continue to participate have a great time in the process.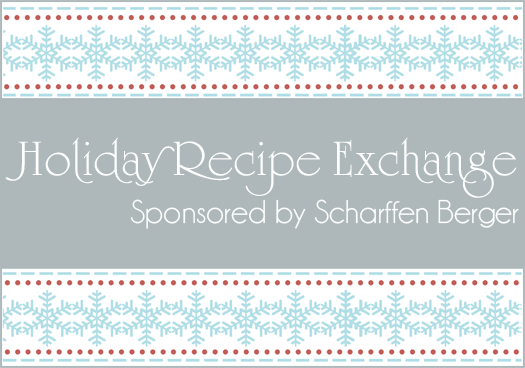 Link Up Your Recipes:
This Week's Prize:
$100 Scharffen Berger Chocolate Prize Pack (1 winner), provided by Scharffen Berger.

Recipe Theme Schedule:
We still have three weeks open for this Holiday season.
If you would like to discuss scheduling a sponsored recipe exchange please contact Katie or Jamie to discuss availability and themes.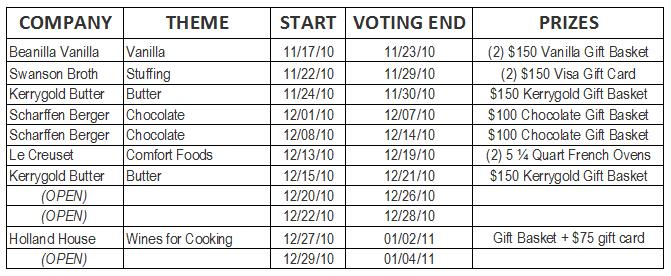 click image to enlarge
How To Promote:
Help us spread the word by letting your friends, family, and followers know about the contest.
Email, Facebook, Tweet, Stumble…anything you want to do to promote this post is welcome.
Sample Tweet 1: Join @GoodLifeEats and @BakingAddiction for a Holiday Recipe Exchange. See how you can participate (and WIN) here: http://bit.ly/9YCFgA Pls RT
Sample Tweet 2: Enter CHOCOLATE recipes in @GoodLifeEats & @BakingAddiction Recipe Exchange 4 chance @ $100 @scharffenberger gift http://bit.ly/dFc1EE
Sample Tweet 3: Have a winning CHOCOLATE recipe? Share in @GoodLifeEats & @BakingAddiction Recipe Exchange 4 chance @ $100 GIFT http://bit.ly/dFc1EE
Sample Tweet 4: Vote 4 my CHOCOLATE recipe in @GoodLifeEats & @BakingAddiction Recipe Exch so I can win $100 @scharffenberger basket http://bit.ly/dFc1EE
More Chocolate Recipes: