Cardamom Citrus Coffee Cake
I confess. I haven't used cardamom, at least to my knowledge, before this past year. I don't think I even really knew what the taste of cardamom was or what kind of dishes one would cardamom it in. Now I do. And I'm not looking back. Thank you, The Flavor Bible for educating me on the matter!
What does cardamom taste like? It is described as having a strong, unique spicy-sweet taste, which is slightly aromatic (from
RecipeZaar
). What flavors go well with cardamom? It is common in Indian cooking and is said to match well with chicken, cinnamon, coffee, coriander, dates, curries, ginger, oranges, rice, and tea.

Cardamom is an excellent addition to garam masala and fresh ginger in Indian Butter Chicken (to be posted later). Equally delicious, though in a different way, in this Upside-Down Cardamom-Pear Cake (which was never photographed because it was demolished by a hungry group of moms (and kids). And definitely blog worthy in my latest cardamom experiment: Citrusy Cardamom Coffee Cake. So, if you haven't given cardamom a try yet, this is a great recipe to start with. Especially if you have a refrigerator full of oranges.
Citrusy Cardamom Coffee Cake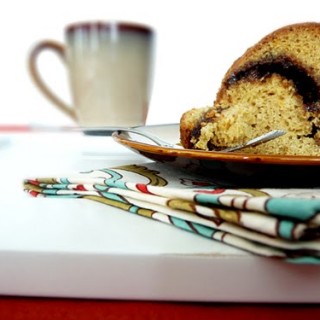 Ingredients:
Cake:
3 cup flour
1 1/2 teaspoon baking powder
1 1/2 teaspoon baking soda
3/4 teaspoon salt
1 cup granulated sugar
1/2 cup brown sugar
zest of 1/2 large orange
3/4 cup butter, softened
1/2 a vanilla bean split open and seeded or 1 teaspoon vanilla
3/4 teaspoon ground cardamom
3 eggs
1 1/2 c sour cream
Filling:
zest of 1/2 large orange
1/2 cup brown sugar
1 teaspoon cinnamon
1/2 teaspoon ground cardamom
Directions:
Preheat oven to 350 degrees F. Grease bottom and sides of a bundt cake pan.
Prepare the filling by combining the brown sugar, cinnamon, and cardamom; set aside. In a mixing bowl, combine flour, baking powder, baking soda, salt, and cardamom; set aside.
In a small food processor, combine the sugars and the orange zest. Pulse several times until the zest is finely chopped and sugar is fragrant. Alternatively, you can place the sugars in a bowl with the zest and rub it with your fingers.
Using an electric mixer, preferably a stand mixer, beat sugar and butter until fluffy. Add vanilla bean and eggs, beat on medium for 2 minutes, scraping bowl periodically. Beat 1/4 of the flour mixture and sour cream at a time alternately into sugar mixture on low speed till blended. Spread half of batter into pan. Sprinkle filling mixture on top. Add the remaining batter and carefully spread (it may help to spray a spatula with PAM).
Bake for 50-60 minutes, or until tooth pick comes out clean. Cool 30 minutes in pan on wire rack. Remove from pan to wire rack, cool.