Easy Homemade Croutons
How to make croutons at home! Who needs expensive bags of store-bought ones when you can make them exactly how you like them.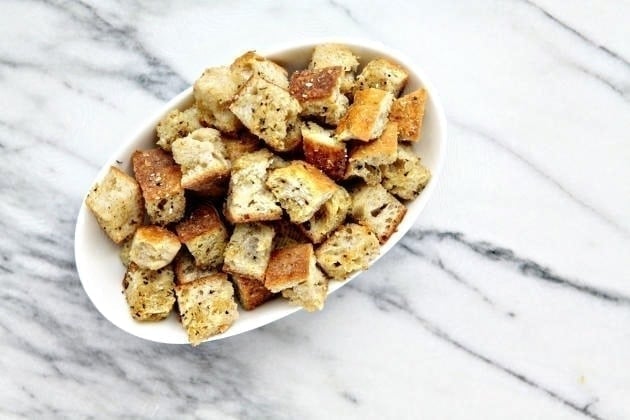 With spring (YAY) salad season arriving shortly, learning how to make these easy homemade croutons is a great thing to do. I love the flavor and crunch that a good crouton adds to a salad – makes it seem more like a meal when there is a lot of varying color, texture, and flavor rather than just a pile of vegetables, you know?
You might be thinking, now why would I bother making croutons when I can just buy them? I'll tell you!
Save money! Bread is relatively cheap to make and to purchase. Most of us usually already have bread on hand that we can use to make croutons at home…that makes them basically free!
Be healthier! No mystery ingredients included when you make it yourself rather than using store-bought croutons. Plus, you can control the amount of salt and fat when you add it yourself.
Produce less waste! You won't be throwing away bags that store-bought croutons come in when you make them homemade, and you'll be able to repurpose and utilize bread that has gone stale and otherwise would get tossed in the trash can.
Be Creative! It is fun to experiment and try different things in the kitchen. Whether that is learning a new skill, such as how to make croutons, or coming up with a new flavor profile to feature in your croutons, creativity makes life more fun.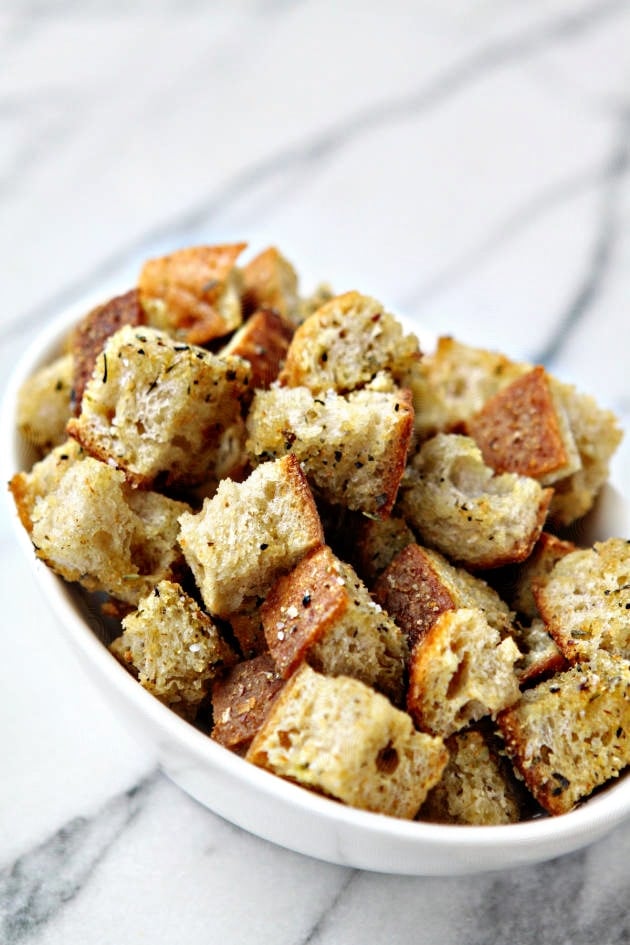 How to Make Easy Homemade Croutons
1. You're going to want to make sure you start with good quality bread when you're making homemade croutons. A nice baguette, homemade or store-bought, or rustic white bread works great.
Bread that you made or purchased and didn't eat quick enough before it began to become stale is perfect.
2. The size you cut the bread into really depends on your personal preference, but I recommend 3/4 – 1 inch sized cubes of bread.
Don't worry if the cubes aren't all 100% uniform in shape as long as they are pretty close to the same size. You don't want to end up with a portion of your croutons over or under cooked.
3. Place the cubes in a large, wide bowl and drizzle them with olive oil or butter. You'll use about 1-2 tablespoons of melted butter or olive oil for each 2 cups of bread cubes. Toss the bread evenly to coat.
You can choose to keep it simple and head straight to step 4, especially if you started with bread that already has a lot of flavor (such as a rosemary garlic bread).
If you'd like to take it up a notch, go ahead and add some seasonings to your bread cubes. You might like just a simple salt and pepper or something stronger like garlic powder, onion powder, fresh herbs (thyme or rosemary are great), or dried herbs (basil or Italian seasoning are great).
4. Spread the bread cubes out evenly on a large baking sheet. There should be plenty of space so the cubes aren't too close together or piled up on each other.
5. Bake the prepared bread cubes in a preheated 375°F oven for 10 – 20 minutes(until they reach your desired crunchiness) , stirring every 5 minutes. Make sure you keep at eye on things because all ovens behave differently.
Alternatively you can toast in a toaster oven.
I like them a little crunchier for use in soup since they will soak up a lot of liquid. Less crunchy croutons become soggy faster.
6. Cool completely before storing in an airtight container to maintain freshness and crunch.
Easy Homemade Crouton Uses
Besides as a salad topper, there are a number of other ways to use homemade croutons.
Breading meat? Next time try using crushed homemade croutons rather than breadcrumbs or flour to bread your meat, like the chicken in this Chicken Parmesan with Sundried Tomato Sauce.
Crush homemade croutons and sprinkle on top of baked casseroles for a flavorful crush. This is especially good on any cheesy, baked pasta dish. Try recipes like Green Chile Turkey Tetrazzini, Jalapeño Bacon Mac n Cheese, Southwestern Mac and Cheese, Baked White Cheddar Mac n Cheese with Kale and Bacon or Baked Mac n Cheese with Gruyere and Butternut Squash.
Rather than dipping crackers in soup, use these Easy Homemade Croutons to add crunch your favorite bowl of soup. I like croutons with a bowl of Italian Sausage Orzo Soup, Easy Cheesy Broccoli, Kale, Carrot Soup, Rosemary Chicken Chowder with White Beans, Roasted Garlic and Cauliflower Soup, or Easy Tomato Florentine Soup.
You can use crushed Homemade Croutons instead of breadcrumbs in these tasty Chicken Meatballs.
Have you ever made homemade croutons?
Easy Homemade Croutons
Yield: 3 cups
Prep Time: 10 minutes
Cook Time: 10 - 20 minutes
How to make croutons at home! Who needs expensive bags of store-bought ones when you can make them exactly how you like them.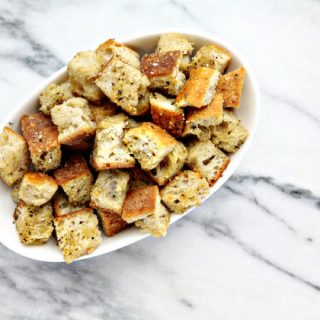 Ingredients:
3 cups Dry Bread, cut into 1/2-inch cubes
3 tablespoons Melted Butter or Olive Oil
Salt and Pepper, to taste
Optional Seasonings:
Dried or Fresh Chopped Herbs
Minced Garlic
Fresh Parmesan, Asiago, or Romano Cheese, ground into a fine powder
Directions:
Place the oven rack in the middle position. Preheat the oven to 375 degrees F.
In a large bowl, toss the cubed bread, melted butter or olive oil, salt, and pepper together. Pour the butter and garlic coated croutons onto a rimmed baking sheet and spread out until somewhat evenly spaced.
Bake on the middle rack of the oven until they are golden brown and crispy - about 20 to 30 minutes. Toss them halfway through to encourage even browning.
Cool completely and serve. Store leftovers in an airtight container for 3-4 days.