Pumpkin Pie with Caramel Pecan Topping
This recipe for Pumpkin Pie with Caramel Pecan Topping is our family's tried and true pumpkin pie recipe that makes it onto the menu year after year.
Do you have special plans or traditions for Thanksgiving? What is your favorite recipe? Or do you have something new you're trying this year? I want to hear about it!
Thanksgiving has been an all month event here with all the Craft posts I've been writing. And I'll be doing the whole meal again (with maybe a couple extra sides too, and hopefully some helping hands this time) next week at my dad's.
I have special instructions to please make the Pumpkin Pie with Caramel Pecan Topping. Thanksgiving just would not be the same without it.
I have to admit that I'm a little bit nervous about traveling alone with the kids. We are going out a little earlier so the kids can have more time with Grandpa and Eric will arrive on Thanksgiving.
I've never done kids on the plane without him to help me. Wish me luck! And I'd love your suggestions for how to make the trip there as easy and headache free as possible. At least the flight is non-stop.
Pumpkin Pie with Caramel Pecan Topping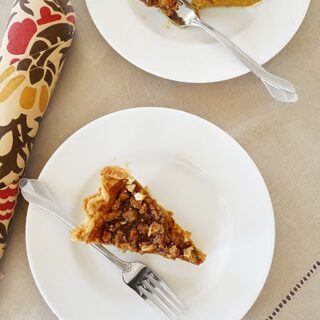 Ingredients:
For the Pie Crust
For the Pumpkin Filling:
15 oz can pumpkin
3 slightly beaten eggs
1/3 cup half-and-half or heavy cream
½ tsp vanilla
¼ cup granulated sugar
½ cup brown sugar, packed
3 Tbsp flour
1 tsp lemon zest
½ tsp salt
½ tsp cinnamon
1/8 tsp nutmeg
¼ tsp allspice
1/8 tsp cloves
For the Topping:
½ cup packed brown sugar
½ cup chopped pecans
¼ tsp salt
2 Tbsp softened butter
Directions:
Prepare the pie crust according to the recipe, or use your preferred pie crust recipe or store bought dough.
In a medium-sized bowl, whisk together the granulated sugar, brown sugar, flour, zest, salt, and spices. In a separate bowl, combine the pumpkin, eggs, half-and-half, and vanilla. Add the dry ingredients to the pumpkin mixture and lightly beat by hand until well combined. Pour the pumpkin mixture into the pastry-lined pie plate. Bake at 375° for 25 minutes.
While the pie bakes, stir together the brown sugar, pecans, salt, and butter until combined. Remove the pie from the oven and sprinkle the brown sugar mixture over the top of the pie.
Bake for 20 minutes more or until the center is set and the topping is golden and bubbly. Cool on a wire rack. Cover and refrigerate within 2 hours.
Notes:
Tip: It's easier to remove the first slice of pie from the plate if you cut the first piece and then cut the second before removing the first.