Check out these tried and true healthy snacks to satisfy your cravings next time a snack attack strikes. I have 15 easy, healthy snack recipes to help you keep your healthy eating habits on track this year.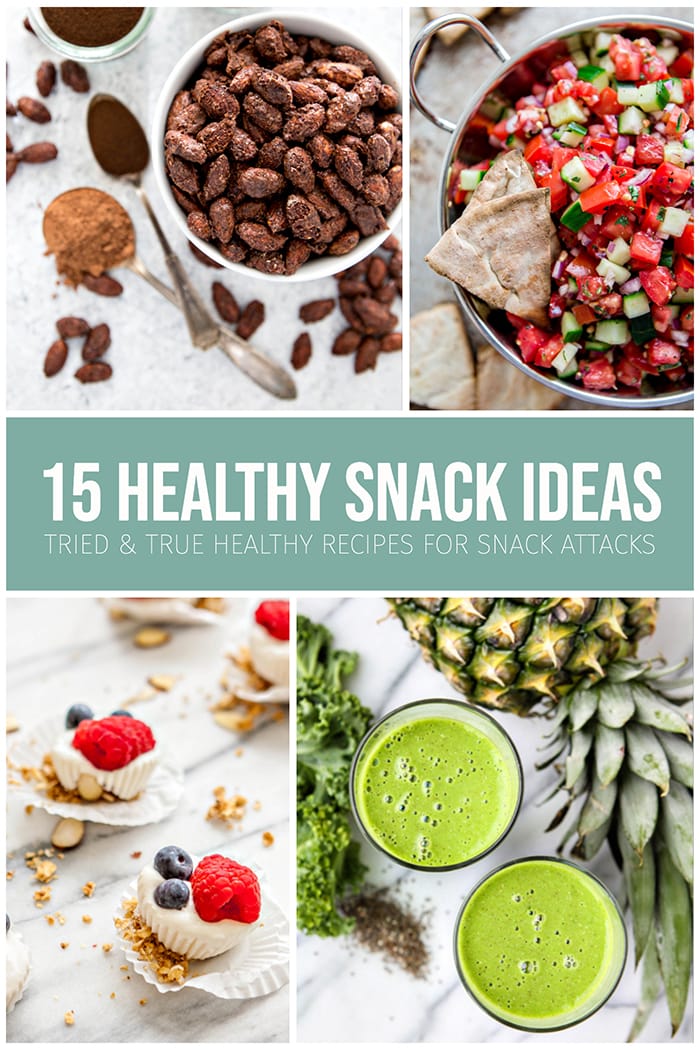 Click HERE to save these Healthy Snack Ideas to Pinterest!
The Importance of Healthy Snacking
One of the best ways to stay on track with New Year's eating goals is to keep hunger and cravings at bay with healthy snacks.
Making sure you have fresh, light, healthy snacks readily available means that instead of reaching for potato chips when you get the munchies, you will be able to enjoy a snack that you won't hate yourself for later.
Setting a Good Example
I've found that healthy snacks have been especially important with the increase in at home time that we all had in 2020. With so many limits on activities, social lives, and school it has been so much easier than ever before to eat because we're bored.
Not only am I looking for ways to satisfy my own midday hunger pangs, I also want to make our kids are learning healthy snacking habits while they are still living at home.
It is so crazy to think about how soon they are going to start moving away! At ages 17, almost 16, almost 14, and 13 it isn't going to be too far away. I'm starting to have those feelings of dread that these next few years are going to pass my by way too fast.
Healthy Snacking Tips
Healthy snacking starts with healthy habits. Here are a few tips to enjoy a snack without sabotaging your healthy eating goals:
Don't Snack Mindlessly.
Mindless snacking often leads to portion control issues. Don't sit with an entire open container in front of the T.V. at the end of the day.
Instead, plan to eat a small snack in between meals to keep hunger at bay. Choose a reasonable portion and serve it to yourself on a small plate or bowl so you know how much you are eating.
Have a Healthy Snacking Plan.
You can't eat or make a healthy snack if you don't have healthy things on hand. Plan to purchase a few things you wouldn't mind snacking on during your next grocery trip.
Make Healthy Snacking Easy.
Healthy snacking shouldn't be a chore or something that feels like a lot of work to prepare. Several of the items on this list can make ahead and store in the pantry, fridge, or freezer. Try batch preparing over the weekend to set you up for success during the week.
I also like to keep washed and cut carrots, celery, radishes, and bell pepper strips on hand in containers in the fridge for easy grab and go snacks when I don't have time to make anything.
Choose healthy snacks that offer nutritional value.
Whether that is vitamins and minerals, fiber, protein, healthy fats, or a combination. Snacks that have sustain you in between meals without sabotaging your diet. Here are some nutrients to focus on:
fiber (fruits and veggies!)
protein (nuts, nut butter, lean meat, beef jerky)
calcium (cheese, cottage cheese, yogurt)
vitamin c (clementines, oranges, strawberries, red bell pepper)
Try pairing 2 different categories, like apple slices and nut butter for fiber and protein, or cottage cheese with berries in it.
Think of snacks as a way to supplement your diet with nutrients you don't get enough of from your daily meals. If you know you aren't getting enough protein from breakfast, lunch, and dinner, choose a protein-rich snack.
Click HERE to save these Healthy Snack Ideas to Pinterest!
15 Healthy Snacks
These 15 Healthy Snack ideas will ensure that you have tasty, whole food options when snack time rolls around for everyone in the family.
Click HERE to save these Healthy Snack Ideas to Pinterest!
Get More Recipes via Email
Did you love this recipe? Sign up to receive Good Life Eats Email Updates and never miss another recipe!

What are your favorite healthy snack ideas?