15 Healthy Snacks for the New Year
One of the best ways to stay on track with New Year's eating goals is to keep hunger and cravings at bay with healthy snacks.
Making sure you have fresh, light, healthy snacks readily available means that instead of reaching for potato chips when you get the munchies, you will be able to enjoy a snack that you won't hate yourself for later.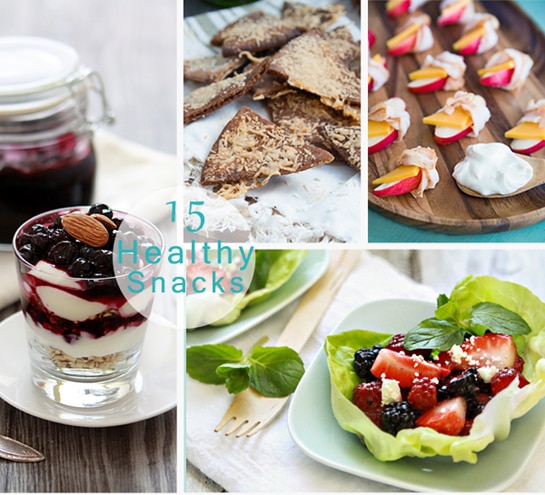 Not only am I looking for ways to satisfy my own midday hunger pangs, I also want to make sure my kids are learning healthy snacking habits while they are still young.
These 15 Healthy Snack ideas will ensure that you have tasty, whole food options when snack time rolls around for everyone in the family.
Fruit and Veggie Snack Ideas
Berry Balsamic Lettuce Cups | Good Life Eats
Ham & Cheese Apple Wraps | Some the Wiser
Pomegranate, Raspberry, Nectarine Popsicles | Good Life Eats
Crispy Baked Carrot Chips | Running to the Kitchen
Roasted Red Pepper Hummus | Good Life Eats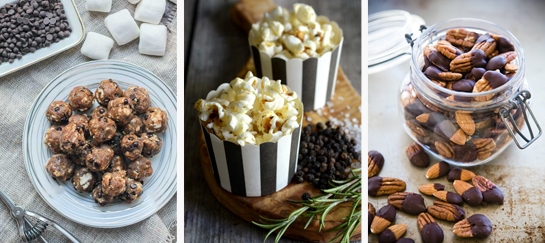 On-the-Go Snack Ideas
Chocolate Dipped Nuts | Good Life Eats
Brown Butter Rosemary Popcorn | Good Life Eats
Molasses and Ginger Granola Bars | Good Life Eats
Vegan S'mores Energy Bites | Beard and Bonnet
Hemp Cocoa Bites | Simple Bites
Hearty Whole Grain Snack Ideas
Multi-Grain Banana Bread | Good Life Eats
Whole Wheat Garlic Parmesan Pita Chips | Good Life Eats
Homemade Yogurt Granola Parfaits | Good Life Eats
Gluten Free Strawberry Millet Muffins | Beard and Bonnet
Mini Babybel Bites | Green Light Bites
What are your favorite healthy snack ideas?
I am an official brand advocate for Bel Brands in 2013. While I receive compensation for participation as a brand advocate, opinions are my own.