Creamy Vanilla Apricot Sorbet with White Chocolate Almond Bark
Madeline insisted on apricots last week at Costco. They looked pretty good, and the price was decent, so I was happy to oblige. She ate two, loved the apricots, and then wanted nothing more to do with them.
I like apricots alright, but I think the flavor is enhanced so much more when the fruit is cooked. In fact, I think it's one of the few, maybe only, fruit that I prefer cooked. I surely didn't want waste a couple dozen apricots, and I wasn't up to eating them all myself. I needed to make something with them. There were lots of suggestions for jam, but I didn't have the required lids for the canning jars and I didn't want to head to the store.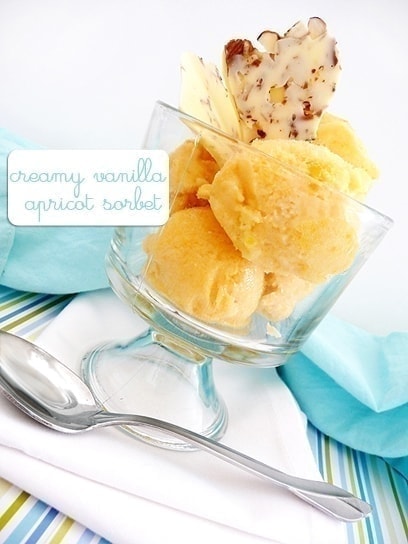 Then ice cream came to mind. It was a hot day and the perfect opportunity to make a bowl of cold ice cream to cool off with. When searching for recipes I found several different recipes. Ice creams, sorbets, and more.
I almost made the Apricot Ice Cream from Perfect Scoop: Ice Creams, Sorbets, Granitas, and Sweet Accompaniments, but I decided I wasn't in the mood for a rich dessert, though I still wanted something creamy.
Decisions, decisions! In the end, I adapted a sorbet recipe and made it slightly more creamy by adding a bit of milk. For added flair, I made some white chocolate almond bark pieces to garnish the sorbet with.
This Creamy Vanilla Apricot Sorbet turned out to be a great lighter summer dessert. Madeline especially loved it! YUM!
What are some of your favorite apricot recipes?
More Delicious Apricot Recipes to Enjoy:
Creamy Vanilla Apricot Sorbet with White Chocolate Almond Bark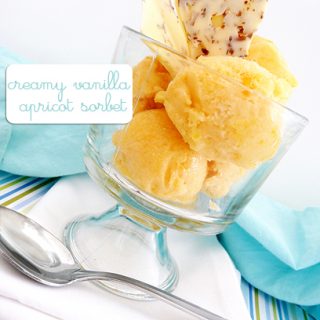 Ingredients:
For the Apricot Sorbet:
2 cups water
1 2/3 cups sugar
1 tablespoons vanilla extract
1 cup milk
1 1/2 pounds apricots, halved and pitted
White Chocolate Almond Bark:
6 oz white chocolate
1 teaspoon shortening
1/3 cup sliced almonds
Directions:
For the Apricot Sorbet:
Combine water and sugar in a large saucepan, and bring to a boil over medium-high heat, stirring occasionally. Add apricots; bring to a boil. Cover, reduce heat, and simmer 10 minutes or until apricots are tender. Place apricot mixture, milk and vanilla in a blender; process until smooth. Chill.
Pour mixture into the freezer can of an ice cream freezer, and freeze according to manufacturer's instructions. Spoon into a freezer-safe container; cover and freeze 2 hours.
For the White Chocolate Almond Bark:
Melt chocolate and shortening together. Line a baking pan with parchment. Sprinkle almonds on parchment. Pour chocolate over almonds. Refrigerate until solid. Break apart into pieces.