Pumpkin Oatmeal Breakfast Smoothie
It's my favorite time of year. I love Autumn because even though it brings chilly air and rainy days with it when it rolls into town, it also comes bearing gifts. I've been looking forward to the changing colors on the trees, the upcoming holidays, and all the pumpkin goodness that happens this time of year!
When the calendar turns to October, I fill the menu with every pumpkin recipe I can get my hands on. For me, pumpkin is the surest sign that Autumn has arrived.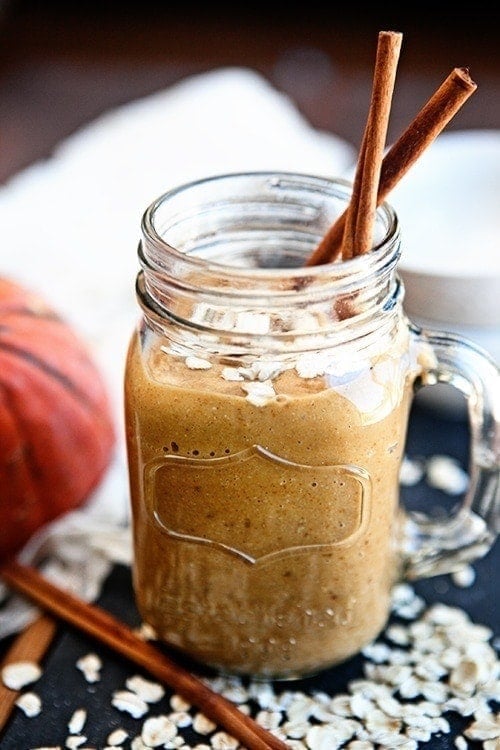 This Pumpkin Oatmeal Breakfast Smoothie is one of our favorite pumpkin recipes right now. It's a healthy, yet delicious, way to start the day. Plus, tasty pumpkin recipes on the breakfast table make it easier to deal with the darker mornings and the chillier air we've been waking up to lately.
I like smoothies for breakfast because they are something I can pull together quickly in the mornings while everyone rushes around like headless chickens. Mornings during the school year are crazy at our house. We are not those people who have figured out a calm, solid morning routine. We are, however, those people that believe a healthy pumpkin smoothie alleviates the problem.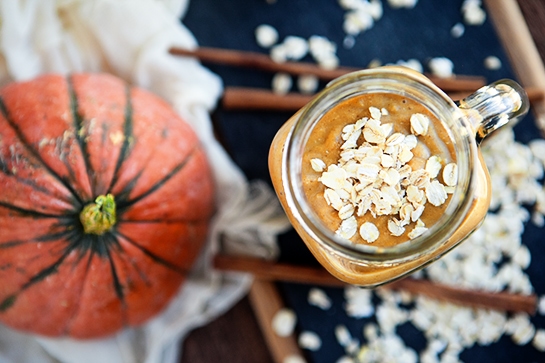 The best thing about this particular pumpkin smoothie recipe is that while it is healthy, packed with vitamin A, protein, and whole grain goodness, it tastes a lot like a yummy slice of pumpkin pie. Breakfast that tastes like dessert but is healthy like a bowl of oatmeal? Yes, count me in! The kids want on that train too!
We'll be eating pumpkin pie too, of course, because as far as I'm concerned, pumpkin desserts are as good as it can get. But since it's harder to justify a slice of pie at 6 o'clock in the morning, I'll settle for the next best thing – a pumpkin smoothie, with all the health benefits of a plain old bowl of oatmeal, that tastes like pie.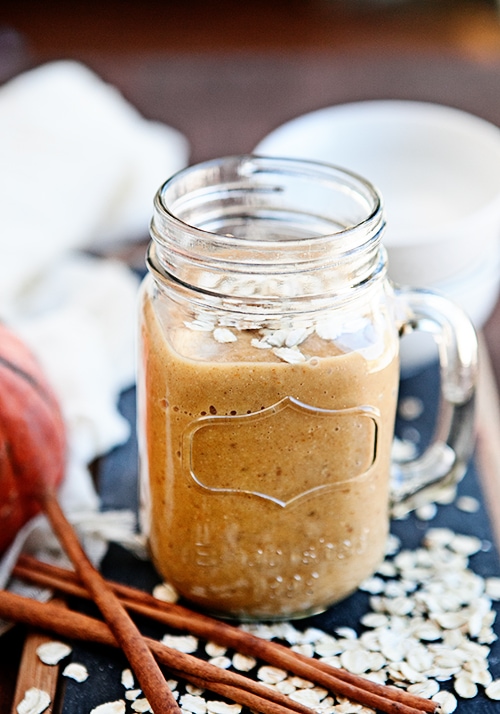 Pumpkin Oatmeal Breakfast Smoothie
Yield: 1 serving
Prep Time: 5 minutes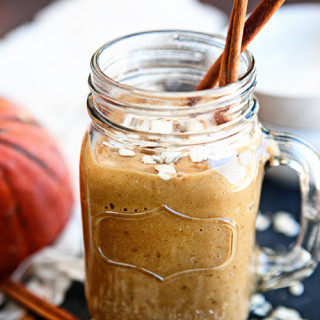 Ingredients:
1/4 cup dry rolled oats
3/4 cup almond milk
1/2 cup pumpkin puree
1 frozen banana
3 to 5 pitted dates, or to taste
1/2 teaspoon ground cinnamon
1/4 teaspoon ground ginger
pinch of nutmeg
1/4 teaspoon vanilla extract
1 tablespoon chia seeds
1/4 cup ice
Directions:
Place the rolled oats in a high powered blender and pulse once or twice to grind the oats to a coarse powder. Add in the remaining ingredients in the order listed and pulse until smooth. Add more milk to thin, if desired.