Fall Mexican Rice Bowls
These Fall Mexican Rice Bowls are an easy recipe that I put together a few weeks ago after I had the opportunity to chat with Chef Connie Guttersen about putting together a new, simple family meal idea.
Connie challenged me to create a recipe that aimed for simple, easy, and everyday with ingredients that could be found at any common, non-specialty grocery store.
She suggested that I develop a recipe that contained 2 varieties of beans, plus at least 2 vegetables and 1 grain for a nutritionally dense recipe.
And, of course, it shouldn't take too long to prepare.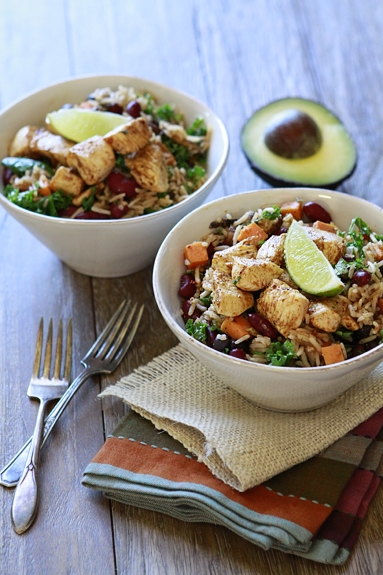 Click HERE to save this recipe for Fall Mexican Rice Bowls to Pinterest!
I am a fan of simple and easy. Although I wanted my recipe to be everyday enough that it was accessible to readers, I didn't want it to taste ordinary and everyday.
I chose to work on a Mexican Rice Bowl that could easily be adapted depending on what vegetables were on hand.
Because we are in the middle of fall and merging into winter, I wanted to feature seasonal vegetables to create a Fall Mexican Rice Bowl.
That called for sweet potatoes and kale.
Kale and sweet potatoes offer bright appealing colors and interest while also providing a diverse nutritional palate.
They also paired really well with kidney and black beans and the Mexican flavors of cumin and chili.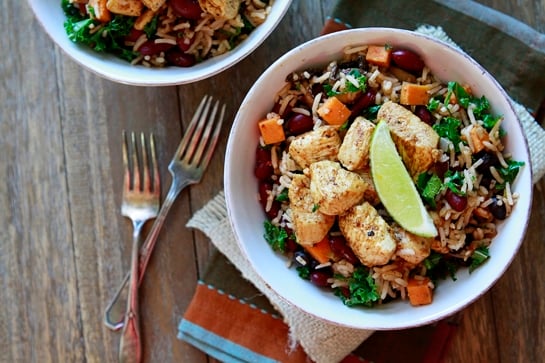 Click HERE to save this recipe for Fall Mexican Rice Bowls to Pinterest!
Tips for Simple, Easy, Everyday Meals
Make a Plan
We've all been there.
Dangerously near 5:00 pm.
No plan.
Minimal groceries on hand.
Panic sets in.
I do this far more than I care to admit (although sometimes that panic allows me to create something truly delicious, it is stressful).
Planning and shopping ahead make weeknight meals come together easily.
Fresh Is Best
I find that when I use fresh, seasonal ingredients I can really let the flavors of those vegetables shine.
You don't have to do a lot to make in season produce taste great.
Prepare in Advance
Any chopping, slicing, or dicing that can be done in advance during less busy periods of the day will save you time during the dinner rush.
In this meal, kale can be pre-chopped and the sweet potatoes can be peeled and diced ahead of time.
Cook Once, Eat Twice
Connie shared some great words of advice for all busy parents out there.
She said "As far as busy night… one concept which works for me, is the cook once, eat twice."
To simplify these Fall Mexican Rice Bowls one step further, Connie suggests cooking extra meat the night before with plans to use the leftover meat, " and do a "shredded" meat with the dish you are describing."
My Crock Pot Shredded Mexican Chicken would be perfect to prepare ahead of time to add on top of this rice dish.
What are your favorite tips for simple, easy, and everyday meals?
Love this recipe for Fall Mexican Rice Bowls? Sign up for Good Life Eats email updates and never miss another recipe!
Be sure to follow Good Life Eats on Instagram.
I'd love to hear if you try this recipe and what you think of it – snap a photo and tag @goodlifeeats and include the hashtag #goodlifeeatsrecipes so I can see what you're cooking up in YOUR kitchen!
Don't have Instagram? Let me a comment below!
Fall Mexican Rice Bowls
Yield: serves 4 - 6
Prep Time: 5 minutes
Total Time: 30 minutes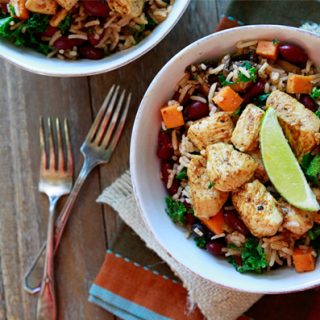 Ingredients:
For the Rice:
1 1/4 cup uncooked basmati rice
2 cups water
1/2 cup salsa
1/2 of a purple onion, diced
8 ounces peeled and diced sweet potato
1/2 teaspoon cumin
3/4 teaspoon chili powder
3.5 ounces chopped kale
1 can Bush's Kidney Beans, drained
1 can Bush's Black Beans, drained
salt and pepper, to taste
For the Chicken:
1 lb. boneless, skinless chicken breasts, cubed
salt and pepper, to taste
1/2 teaspoon cumin
1/2 teaspoon chili powder
[Optional - or use leftover meat from a previous night's dinner or rotisserie chicken]
Topping Ideas:
Lime Wedges
Avocado Slices
Salsa
Shredded Pepper Jack Cheese
Directions:
In a saucepan, add the water, salsa, and rice. Bring the mixture to a boil, cover with a lid, and turn the heat all the way to low. Allow to cook for 15 minutes.
Meanwhile, in a large cast iron skillet or stainless steel pan, heat 2 teaspoons of olive oil. Add the diced onion and saute for 5-7 minutes, or until tender.
Then add the sweet potato, cumin, and chili powder and saute until the sweet potatoes are tender. Add the chopped kale and cook just until wilted. Stir in the beans. Turn heat to low and set aside while you prepare the chicken.
Heat 2 teaspoons of olive oil in a cast iron skillet or stainless steel pan. Add the chicken and seasonings and cook until the chicken is done. Set aside.
In a large bowl (or your skillet if it is large enough), combine the cooked rice with the vegetables.
To serve, scoop the rice and vegetable mixture into bowls, top with cubed chicken. Although not necessary, serve with any toppings that you prefer.
Notes:
This recipe is very forgiving. You can easily swap out vegetables according to season or personal preference. Other great vegetable additions or substitutions include red bell pepper, sliced mushrooms, diced butternut squash, spinach, or tomatoes.
If you like extra heat, try including fire roasted green chiles or minced chipotle peppers in adobo sauce in the rice.
Vegetarian option may omit the chicken.
A variety of rice can be used as well. If your family prefers brown rice, that is a suitable substitute. Quinoa is another great grain substitution.
This post was created in partnership with Bush Beans. I have been compensated for my time creating this recipe for Fall Mexican Rice Bowls, however all of the contained opinions are my own.
Click HERE to save this recipe for Fall Mexican Rice Bowls to Pinterest!