This lemon chicken orzo soup is a fun twist on classic chicken noodle soup. It's the perfect soup for soothing sore throats year-round!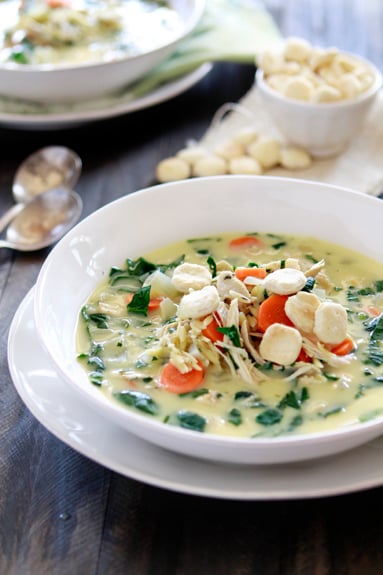 Click HERE to save this recipe for Lemon Chicken Orzo Soup!
Lemon Chicken Orzo Soup Recipe
After the second round of illness hit our home, I knew it was time for some soup. Rather than a traditional chicken noodle soup recipe, I decided to make a lemon chicken orzo soup because it felt a little more spring-like and perfect for those darn springtime sniffles.
Unfortunately for my husband it is was more than a case of the sniffles. He was sick the entire weekend (Friday-Sunday) with high fever, sniffles, and a bad cough. Then he was fine during the week, only to catch the same thing again the following weekend.
Only this time it was worse. This lemon chicken soup was one of the few foods he could keep down, so I was extra thankful to have a big batch of it on hand!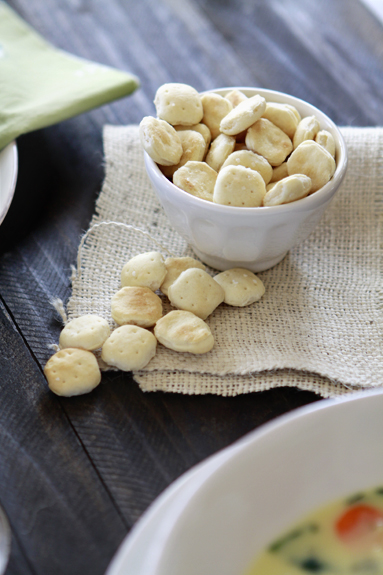 Click HERE to save this recipe for Lemon Chicken Orzo Soup!
Lemon Chicken Orzo Soup Ingredients
This lemon orzo soup is chock-full of good for you ingredients that will help you fight off whatever's causing your sniffles. Here's what you'll need to make this lemon chicken orzo soup recipe:
Chicken
Celery
Lemon
Fresh parsley
Salt and pepper
Dried herbs and spices
Chicken broth
Onion
Garlic
Carrots
Orzo pasta
Egg yolks
Baby spinach
For the complete ingredient list and detailed instructions, scroll to the bottom of this post for the FREE printable recipe card.
How to Make Lemon Chicken Orzo Soup
The steps for this chicken orzo soup recipe are simple. Here are the basic steps to making this easy soup recipe:
Cook and shred the chicken. I've included pressure cooker instructions in the recipe card below.
Once the chicken is cooked, make the soup.
First, sauté the onion and garlic in an oiled Dutch oven until softened.
Add the wine, broth, and carrots and bring the mixture to a boil.
Add the egg yolks, orzo, and chicken. Cook until pasta and carrots are tender.
Add fresh thyme, parsley, and spinach just before serving.
Can I Omit the Egg Yolk?
A few readers have asked about omitting the egg yolks due to egg allergies. The yolks give the broth a yellow color, but you can omit them if needed.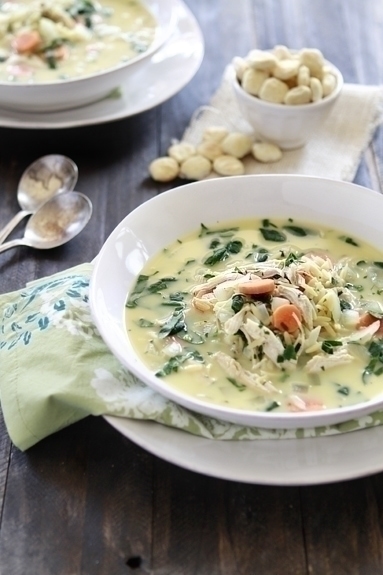 Click HERE to save this recipe for Lemon Chicken Orzo Soup!
What Readers Are Saying
"Just made this soup….DELICIOUS! A new family favorite. To save time I used a roasted chicken from the supermarket, I added some fresh mushrooms, and made a few homemade garlic croutons. So happy to find this recipe. THANKS!!" — Lauren
"Just made this soup, it is so delish!! I left out the orzo and added a bit more lemon (I like lemon!) and some diced parsnips that I had leftover. I loved how EASY this soup was to make. Thanks! Will definitely be making this again." — Sarah
"This soup was very good. Instead of using the pressure cooker b/c I don't have one I poached the chicken in the broth lemon and herbs. I also did not have the pasta so I used rice. Thanks for the great recipe." — Crystal
"This soup was absolutely delicious! Thanks so much for sharing it." — Michele
Tips for Making Lemon Chicken Orzo Soup
These days I start any recipe — including this chicken orzo soup — with shredded chicken in the pressure cooker, similar to this CrockPot or Pressure Cooker Mexican Chicken.
You can also use a CrockPot, but that requires more time and some planning ahead. I love how pressure cookers allow me to speed things up in the kitchen. When I'm really in a rush, I don't thaw the chicken breast first, I just put it frozen in the pressure cooker and add about 5-10 minutes to the cook time.
I know some people find pressure cookers intimidating, so I thought I'd share a couple of quick tips for first-time users:
Related: Review of the Kuhn Rikon Pressure Cooker.
Don't Overfill the Cooker
Pressure Cookers typically come with marks on the inside indicating 1/2 and 2/3 full markings. Because foods expand when cooked, pressure cookers should be fill at most 1/2 full for foods and 2/3 full for liquids.
Recipe Liquids
Pressure Cookers require less liquid than traditional recipes because less liquid evaporates, but you will never want to use less liquid that recommended in a recipe built specifically for pressure cookers.
Heat Level
The trickiest part of pressure cooker cooking for me is the heat level. It takes a few times to know what temperature range you want your stove on to maintain the pressure required in your recipe.
If the pressure builds too high, simply turn the heat down. Newer models typically have built in safety mechanisms to auto-release steam so you don't have to worry about explosive pressure cookers but you don't want to over-cook your food.
Likewise, if you need the pressure to be higher just turn the heat up.
Cook Time
For recipes like this shredded chicken, begin by bringing the mixture to a boil without the lid on. Then, secure the lid and bring the cooker to the proper pressure (whatever the recipe calls for). Don't start the cook time until you've achieved that pressure.
Releasing Pressure
Be careful when you are opening your cooker after cooking. Please make sure that the pressure has been completely released before opening it.
On my cooker it takes about 10 minutes for the pressure to release by itself (i.e. just sitting there off of the burner) before it is safe to open it, however models may vary. My cooker also has a fast release button if I need to speed things up.
A good rule of thumb is if the lid gives you resistance when you try to open it: it is not ready yet, there is still a build up of pressure inside. Additionally, be sure to tilt the lid away from your face as there will be steam escaping when you open the lid.
How Can I Prepare this Soup without a Pressure Cooker?
To Make this Lemon Chicken Soup without a pressure cooker is simple! Instead of cooking the chicken in a pressure cooker, prepare the chicken in a crockpot or use chicken from a store-bought rotisserie chicken or homemade roasted whole chicken.
More Easy Soup Recipes:
Love orzo soup recipes? Then you'll also love this Italian Sausage Orzo Soup! It's ready in an hour and is incredibly hearty.
Nothing beats a steaming bowl of Slow Cooker Ham Soup with Potatoes and Kale on a cold day. This is a great recipe to make with leftover Thanksgiving or Christmas ham!
When in doubt, whip up a batch of Beefy Kidney Bean Chili. It's winter comfort food at its finest!
This Vietnamese Rice Noodle Soup with Beef is a great way to experiment in the kitchen when you're short on time. Fast, easy, and delicious!
I made this Pumpkin Black Bean Turkey Chili with actual pumpkin puree to really amp up the flavor and texture. My family loves this!
What's your favorite way to repurpose shredded chicken?
Love this recipe for Lemon Chicken Orzo Soup? Sign up for Good Life Eats email updates and never miss another recipe!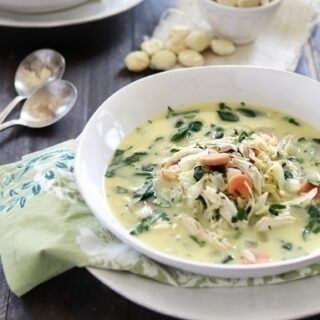 Lemon Chicken and Orzo Soup
Rather than a traditional Chicken Noodle Soup recipe I decided to make a Lemon Chicken and Orzo Soup because it felt a little more spring-like and perfect for those darn springtime sniffles. You'll enjoy this one no matter the weather.
Ingredients
For the Chicken:
1 lb. chicken (I like boneless, skinless breasts)
1 stalk celery, cut into thirds
half of a lemon, sliced
handful of fresh parsley
1/4 teaspoon each salt and pepper
2 bay leaves
3 sprigs thyme
1 cup water
1/2 cup chicken broth
For the soup:
1 onion, diced
2 cloves garlic
1/3 cup white wine
3 carrots, sliced into rounds
6 cups chicken broth
1/2 - 3/4 cup orzo pasta, uncooked
3 egg yolks
2 - 3 tablespoons fresh lemon juice
salt and pepper, to taste
2 tablespoons fresh parsley, minced
1 1/4 teaspoon fresh thyme
2 - 3 large handfuls of fresh baby spinach, chopped
Instructions
For the chicken:
Combine all the ingredients in a 5-liter pressure cooker. If the chicken is frozen, that is okay. Bring the mixture to a boil. Secure the lid and bring to high pressure. Once high pressure is achieved, cook for 20 minutes (for thawed) or 30 minutes (for frozen chicken).
Remove from heat and let pressure release completely before opening the lid. Let the chicken cool until it is cool enough to handle. Shred and set aside.
For the Soup:
Add 1 tablespoon of olive or canola oil in a large dutch oven. Saute the onion over medium-high heat until golden and tender. Add the garlic and saute for 1 minute more.
Add the white wine and cook for 2 minutes. Stir in the broth and carrot. Bring to a boil. Meanwhile, whisk the egg yolks and lemon together. Add 1 cup of hot broth from the dutch oven very slowly to the egg yolk mixture, whisking as you pour. Then, transfer the mixture to the dutch oven. Stir in the orzo and chicken.
Continue cooking over medium-low until the pasta and carrots are tender. Just before serving, season to taste with salt and pepper. Add the thyme, parsley, and spinach. Serve immediately.
Recommended Products
As an Amazon Associate and member of other affiliate programs, I earn from qualifying purchases.
Nutrition Information
Yield

6
Serving Size

1
Amount Per Serving
Calories

300
Total Fat

13g
Saturated Fat

4g
Trans Fat

0g
Unsaturated Fat

8g
Cholesterol

169mg
Sodium

1190mg
Carbohydrates

19g
Fiber

2g
Sugar

4g
Protein

24g
GoodLifeEats.com offers recipe nutritional information as a courtesy and is an estimate only. This information comes from online calculators. Although GoodLifeEats.com makes every effort to provide accurate information, these figures are only estimates.
Tag @goodlifeeats and include the hashtag #goodlifeeatsrecipes so I can see what you're cooking up in YOUR kitchen!
Click HERE to save this recipe for Lemon Chicken Orzo Soup!