Raspberry Curd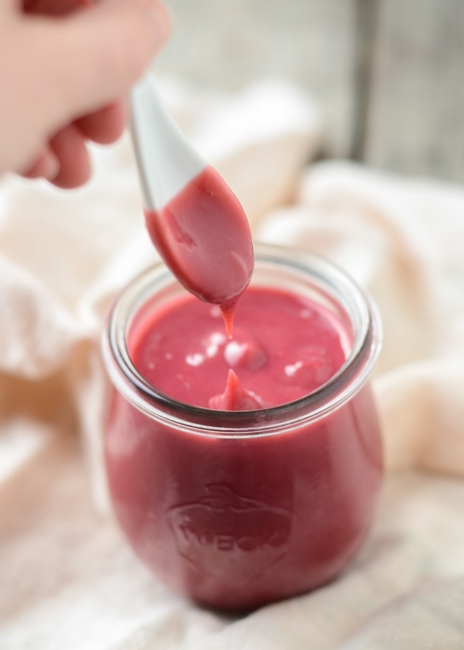 Written by: Erica Kastner of Buttered Side Up
I must admit that I didn't think that this curd was going to be spectacular. With my first bite of a buttery English muffin spread with this lovely red curd, I was sold.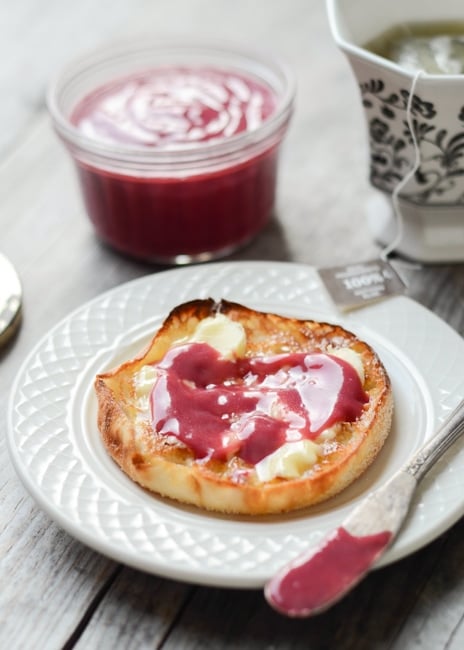 The fat from the butter and egg yolks mellows out the sourness of the raspberries without adding heaps of sugar. But it doesn't mask it completely – that pleasant tanginess still lingers. You can eat this stuff with a spoon (which my husband does).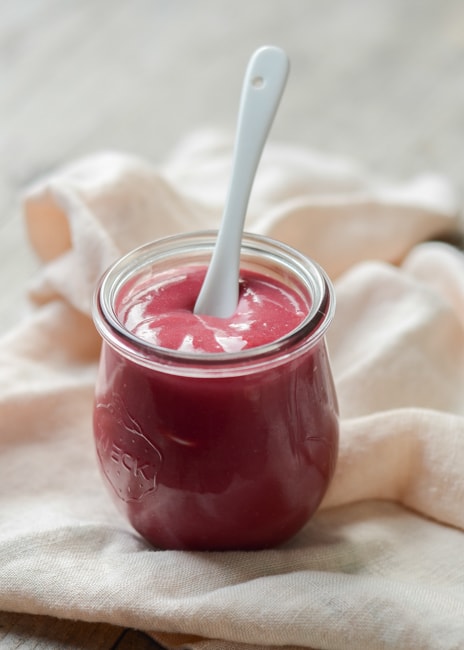 I can imagine many uses for this pretty condiment: spread on toast, scones, or biscuits, or as an ice cream topping. Or, my favorite, with a cup of tea and English muffin.
The dangerous part is that it's super easy to make. Just put all of the ingredients in a pot, cook until thickened and strain. Now I know what I should make with all of the raspberries we have in the freezer.
What's your favorite thing to spread on toast/scones/biscuits?
Raspberry Curd
Yield: 2 cups
Prep Time: 5 minutes
Cook Time: 5-10 minutes
Total Time: 15-20 minutes
A lovely red curd that's slightly tangy - perfect for spreading on scones or toast!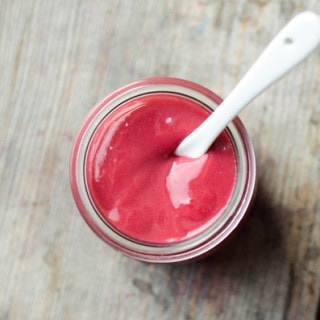 Ingredients:
12 ounces frozen raspberries, completely thawed
1/2 cup (1 stick) butter
3/4 evaporated cane juice (or granulated sugar)
2 tablespoons freshly squeezed grapefruit juice (or lemon juice)
6 large egg yolks
pinch of salt
Directions:
Have ready a fine-mesh sieve placed over a heat-proof bowl.
In a medium, heavy bottomed saucepan, melt the butter over medium heat. Add the berries and any juices, sugar, grapefruit juice, egg yolks and salt.
Cook over medium, stirring frequently and mashing the berries, until thickened, about 5-10 minutes. Strain through the prepared sieve, mashing the berries with a spoon. Discard the seeds and other solids.
Give the curd in the bowl a stir, let cool slightly and press plastic wrap onto the surface. Cover and refrigerate until completely cooled.