Whipped Cranberry Butter [Holiday Recipe Exchange]
I promised when I shared my recipe for Cranberry Orange Walnut Relish that I'd share some ideas for using leftover cranberry sauce after Thanksgiving. I already showed you how to make these cute Bite Sized Mini Cranberry Walnut Tarts.
Whipped Cranberry Butter is another delicious way to use up leftover cranberry sauce.  I love it spread on hot toast or Buttermilk Biscuits fresh from the oven.
Whipped Cranberry Butter is one of those recipes that looks and tastes impressive – it is a snap to prepare. It doesn't take more than 5 minutes and you've got a sweet, tangy, butter spread to accompany your Holiday table.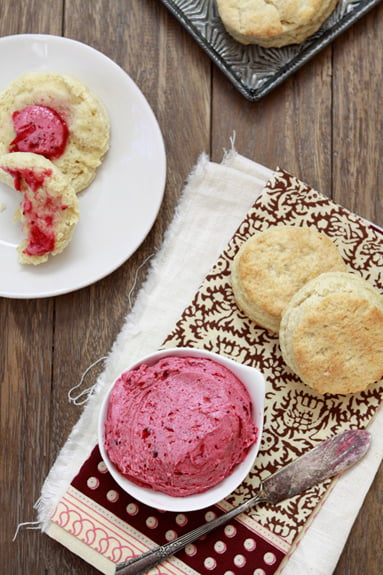 Butter is so essential this time of year with all the baking that we do, so I can't wait to see what you all have in store for Jamie and me with this Butter Themed Holiday Recipe Exchange.
Ever since trying Kerrygold butter last year I have been a bit obsessed. All butters may resemble one another in form and color. But get into the taste and texture and you'll start to notice the difference. Kerrygold butter is a soft and creamy in texture, while the taste is full in flavor. When I use Kerrygold in baked goods the result is exceptional buttery goodness and a more tender crumb.
My grocery store carries it on occasion so I am always keeping my eyes open and stocking up when I do see it. I am really excited that they are our again this year and can't wait to giveaway another Kerrygold Butter and Cheese Basket! Link up your favorite butter recipe, or leave it in the comments for a chance to win this awesome gift basket.
Head over to My Baking Addiction to check out what buttery treat Jamie has in store for us this week.
Whipped Cranberry Butter
Prep Time: 5 minutes
Total Time: 5 minutes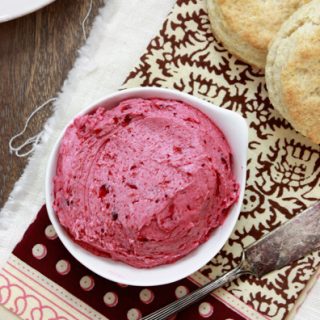 Ingredients:
Directions:
Add butter to a medium sized bowl. Beat with a hand mixer until fluffy. Add the cranberry sauce and beat until incorporated into the butter and the mixture is light and airy. Serve immediately. Store any leftovers in the refrigerator for up to 7 days. Tastes delicious on Buttermilk Biscuits.
Notes:
If you want the mixture to remain spreadable after refrigeration, you will have to incorporate some oil into the mixture. (see: Incredible Spreadable Butter Recipe). Alternatively, just bring the butter to room temperature after refrigeration before you serve.
How To Participate
For a chance to win Butter and Cheese Gift Basket from Kerrygold valued at approximately $150!

Write and post a recipe on your blog featuring BUTTER.

Include "Come join the fun at the My Baking Addiction and GoodLife Eats Holiday Recipe Swap sponsored by Kerrygold in your blog post.
No blog? Just leave your recipe in the comments section.
Add your link to the widget on either GoodLife Eats or My Baking Addiction (we have the same widget code, so only add it on one site).
Submit your post before Nov. 23, 11:59 PM.
Anyone can participate in the link up, but the prizes will ship to US addresses only.
More detailed info are available here.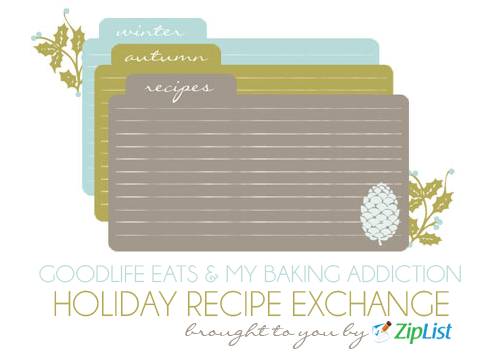 Link Up Your Recipes:
Love any of the recipes featured in today's Holiday Recipe Exchange? If so, be sure to to use the Ziplist Web Recipe Clipper to add your holiday favorites to your online recipe box.
This Week's Prize:
Irish Cheese and Butter Giftbasket from Kerrygold Includes:
2 wedges Kerrygold Dubliner Cheese
2 wedges Kerrygold Swiss Cheese
2 wedges Kerrygold Blarney Castle Cheese
2 wedges Kerrygold Aged Cheddar
2 wedges Kerrygold Reserve Cheddar
2 wedges Kerrygold Red Leicester
2 packs Kerrygold Pure Irish Butter
2 packs Kerrygold Unsalted Butter
2 packs of Kerrygold Garlic and Herb Butter
Prizes provided by Kerrygold
Recipe Theme Schedule: