This Pumpkin Spice Salted Caramel Sauce is so easy to make at home. It is over the top good thanks to the addition of real pumpkin puree and plenty of pumpkin pie spices.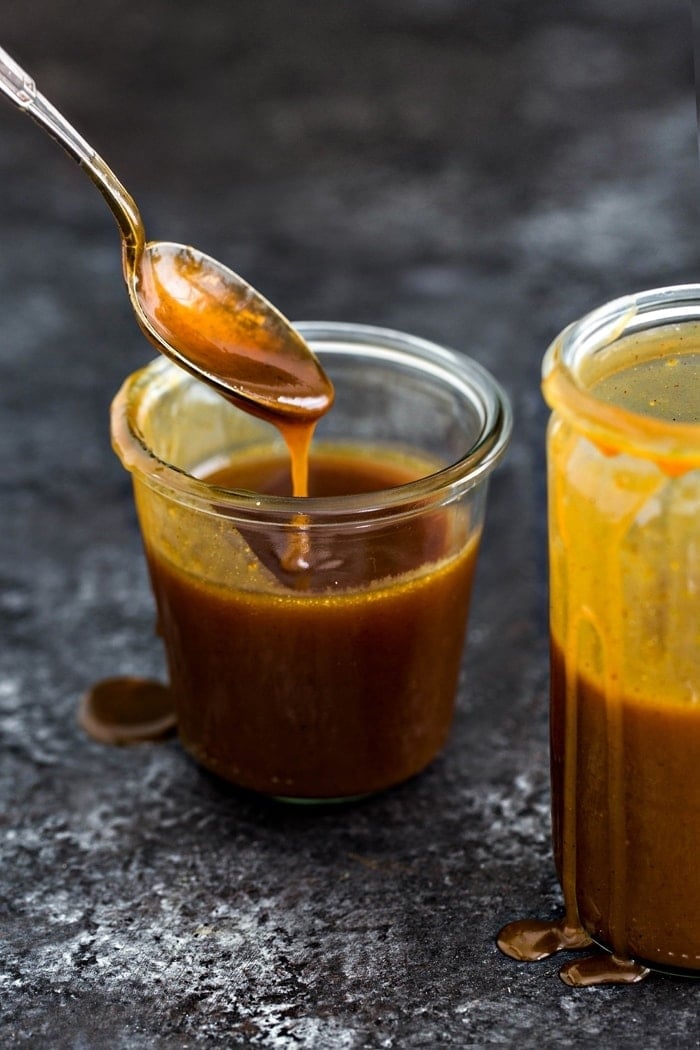 Save Pumpkin Spice Salted Caramel Sauce to Pinterest!
Salted Caramel Sauce Recipe
I was brainstorming some new recipe ideas the other day while I was waiting for another recipe to finish cooking. I had the idea to adapt my recipe for Caramel Sauce with Vanilla and Bourbon and make a new, fall-inspired version.
Originally I was just going to add some fall spices, like cinnamon, ginger, and nutmeg. Then, I thought — what if I actually added some real pumpkin puree, not just the spices, to this homemade caramel sauce? That would be amazing! And it turned out as amazing as I thought it would.
We are big fans of salted caramel sauce and it is something that we frequently have stashed in our fridge for a variety of uses See the huge list of ways to use caramel sauce below.
I'm super excited to have a new homemade caramel sauce recipe to obsess over and try with lots of different dessert and drink recipes (hot chocolate, anyone?). Seriously, if you like caramel and you like pumpkin spice, then you need to head the the grocery store ASAP and get the ingredients to make this pumpkin spice sauce.
This pumpkin spice salted caramel sauce only lasted about a day in our house before it made its way into a new dessert recipe. You have to try this recipe for No-Churn Pumpkin Spice Ice Cream with Pumpkin Caramel and Gingersnaps that I made using this pumpkin spice sauce.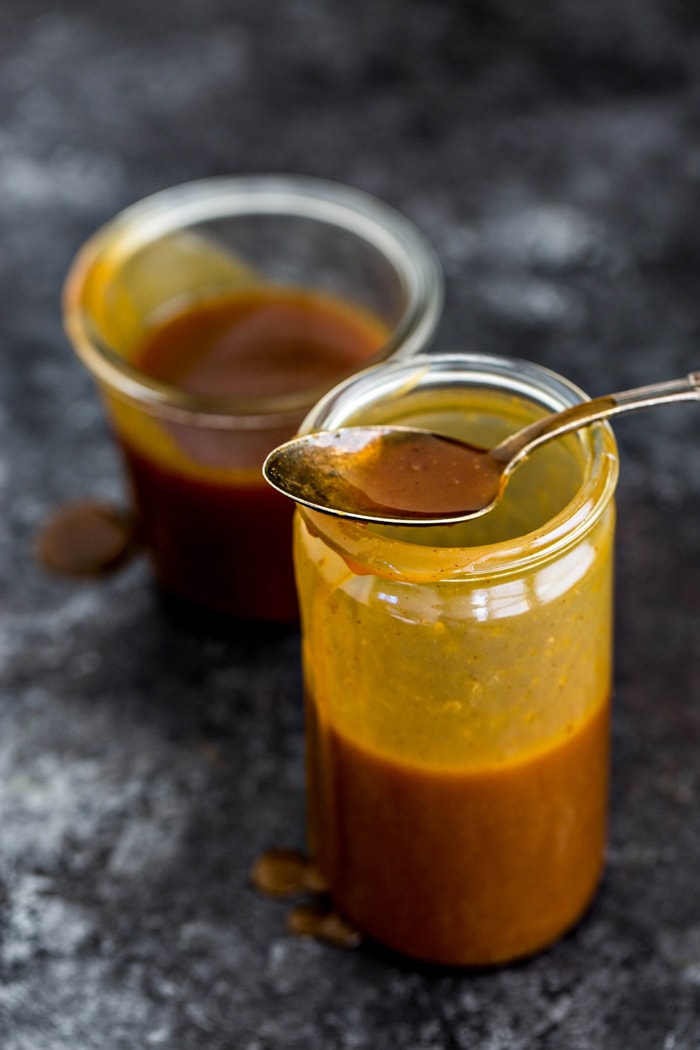 Save Pumpkin Spice Salted Caramel Sauce to Pinterest!
Salted Caramel Sauce Ingredients
This caramel pumpkin spice sauce uses just a handful of ingredients. Here's what you'll need to make this salted caramel sauce recipe:
Granulated sugar
Salted butter
Heavy cream
Vanilla extract
Pumpkin pie spice
Pumpkin puree
Sea salt
How to Make Salted Caramel Sauce
Making caramel sauce is much easier than you'd think! Here's how I make this homemade caramel sauce:
Add the sugar to a saucepan and heat over medium-high heat until golden brown.
Add the butter and whisk until smooth.
Remove the pan from the heat, then whisk in the heavy cream.
Stir in the remaining ingredients.
Let cool to room temperature.
How Long Does Homemade Caramel Sauce Last?
This pumpkin spice salted caramel sauce will last up to 2 weeks in the fridge.
Can I Use Table Salt Instead of Sea Salt?
You likely can, but you'd need to add much less table salt than the recipe calls for. Sea salt has larger salt grains, which is why you need to add more of it to achieve a saltier flavor.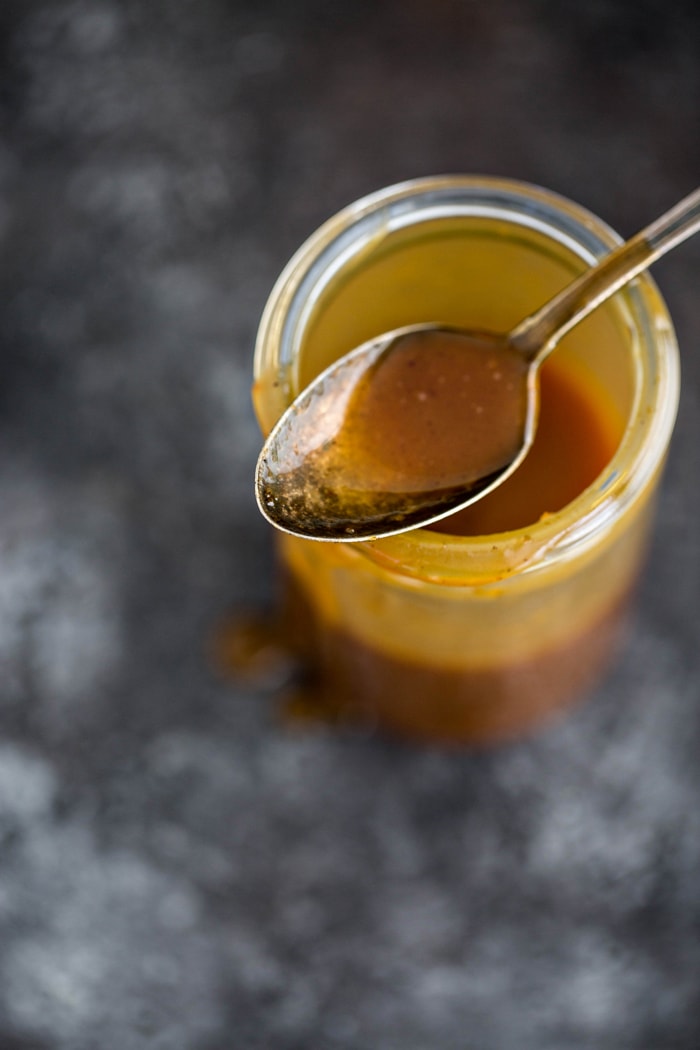 Save Pumpkin Spice Salted Caramel Sauce to Pinterest!
Ways to Use Salted Caramel Sauce
The kids would probably tell you that their favorite way to eat this pumpkin spice salted caramel sauce is to just lick it off a spoon. Seriously. I can't tell you how many times I have been asked "Can I have a caramel spoon?" Um, WHAT? I definitely do this when their backs are turned!
The uses for this easy caramel sauce are endless, but here are a few of our favorite ways to use it:
As an Ice Cream Topping
This has been our go-to way we enjoy this salted caramel sauce. Our current favorite ice cream obsession is one that is mocha flavored and has chunks of Oreo AND cookie dough in it. Topped with this salted caramel sauce…it is insanely good.
Drizzled Over Apple Desserts
Caramel and Apples flavor companions. Take it to a whole new level with Pumpkin + Pumpkin Pie Spices + Caramel + Apples. There are so many apple desserts that you could add just a drizzle of caramel to upon serving.
Try these: 100% Whole Grain Apple Crumble Pizza and Browned Butter Bourbon Apple Crisp. Or you could even just serve it in a little bowl with some apple slices for dipping.
In Pumpkin Spice Caramel Parfaits
Add caramel as a layer in your next parfait. Layer chunks of Pumpkin Bread and whipped cream with this homemade caramel sauce.
Healthier Chocolate Parfaits and Chocolate Chip Cookie Pudding Parfaits are also both awesome candidates for the addition of caramel.
For Homemade Gifting
The holiday gifting season is coming up! This homemade salted caramel sauce makes an excellent gift for teachers, friends, and neighbors. Check out these 35 Homemade Christmas Gift Ideas for a ton more inspiration!
Swirled Atop Brownies
Swirl a bit of this Caramel Sauce into the top of the batter for my Simplest Homemade Fudgy Brownies. This is already the best ever homemade brownie recipe, but just think about it with caramel added to it! BONUS: serve the brownies in a bowl with ice cream and more caramel.
As a Cheesecake Topping
I love this recipe for Chocolate Pumpkin Cheesecake. It is a perfect fall cheesecake alternative and it would be amazing drizzled with this caramel sauce. Or make these No Bake Pumpkin Pecan Cheesecake Pots and add a layer of caramel to them!
Another no-bake cheesecake idea is this Cheesecake Mousse recipe. Swap out the lemon curd and strawberries for salted caramel sauce.
In a DIY Starbucks Drink
My friend Rachael has a great DIY Cold Brew Coffee tutorial. How good would some of this Pumpkin Spice Salted Caramel Sauce be if it was swirled into a cup? Plus, way cheaper than Starbucks!
Don't drink coffee? Try it with hot cocoa instead with a mug of Caramel Hot Chocolate, Chai Tea, or Pumpkin White Hot Chocolate as a treat this winter.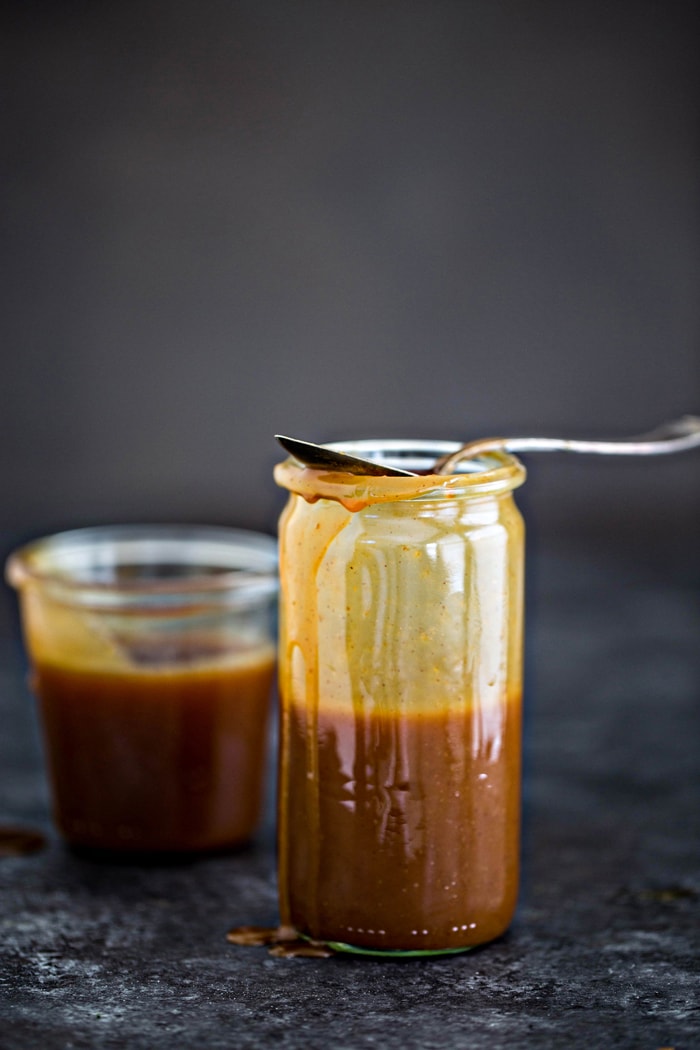 Save Pumpkin Spice Salted Caramel Sauce to Pinterest!
More Easy Caramel Recipes:
These Gingerbread Caramels are a fun twist on classic soft caramels. The molasses and ginger flavors really shine through in this recipe.
Homemade 100 Grand Bars feature homemade caramel sauce that's sandwiched between crispy milk chocolate layers.
My family loves these Dark Chocolate Cupcakes with Salted Caramel Buttercream and Caramel Glaze. Caramel and chocolate is always a winning combination!
If you're a caramel sauce purist, you'll love this classic Bourbon Caramel Sauce recipe. It's a no-fuss recipe that pairs well with any dessert.
This Turtle Pretzel Bark is a cross between chocolate turtles and chocolate bark. The dark chocolate bark is topped with caramel pieces, pretzels, pecans, and more!
What is your fall must have Pumpkin Spice recipe?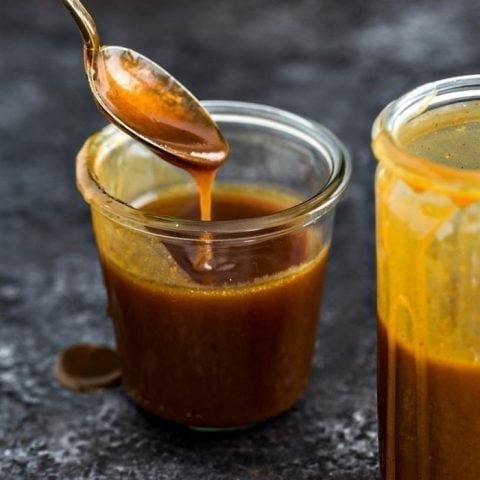 Pumpkin Spiced Salted Caramel Sauce with Real Pumpkin
Pumpkin Spice Salted Caramel Sauce with Real Pumpkin is so easy to make at home. It is over the top good thanks to the addition of real pumpkin puree and plenty of pumpkin pie spices.
Ingredients
2 cups Granulated Sugar
12 tablespoons Salted Butter, sliced into tablespoons
1 cup Heavy Cream
1 tablespoon Pure Vanilla Extract
1 1/2 teaspoon Pumpkin Pie Spice
2/3 cup Pumpkin Puree (not pumpkin pie filling)
1/2 teaspoon Sea Salt
Instructions
Add the granulated super to a medium sized saucepan (3 quart size works well).
Place it over medium-high heat and cook, watching the entire time and stirring occasionally, until the sugar is golden brown and completely melted.
Carefully add the butter. Whisk the ingredients vigourously until the butter is completely melted. The contents of the saucepan will bubble up, so caution should be used.
Remove the pan from the heat and very carefully and slowly pour in the heavy cream while whisking.
The caramel sauce will bubble, but keep whisking until the mixture is completely incorporated. Then, stir in the vanilla extract, pumpkin pie spice, pumpkin puree, and sea salt.
Let cool. After it has cooled to room temperature, transfer to your prefered storage container and serve how you like!
Notes
Caution! Do not attempt to lick the spoon or the whisk as the caramel will be incredibly hot!
Recommended Products
As an Amazon Associate and member of other affiliate programs, I earn from qualifying purchases.
Nutrition Information
Yield

16
Serving Size

2 1/2 tablespoons
Amount Per Serving
Calories

230
Total Fat

14g
Saturated Fat

9g
Trans Fat

1g
Unsaturated Fat

4g
Cholesterol

40mg
Sodium

139mg
Carbohydrates

26g
Fiber

0g
Sugar

26g
Protein

1g
GoodLifeEats.com offers recipe nutritional information as a courtesy and is an estimate only. This information comes from online calculators. Although GoodLifeEats.com makes every effort to provide accurate information, these figures are only estimates.
Be sure to follow Good Life Eats on Instagram. Tag @goodlifeeats and include the hashtag #goodlifeeatsrecipes so I can see what you're cooking up in YOUR kitchen!
Save Pumpkin Spice Salted Caramel Sauce to Pinterest!
Did you try this recipe? Let me know what you thought by leaving me a comment below. I'd love to hear from you.